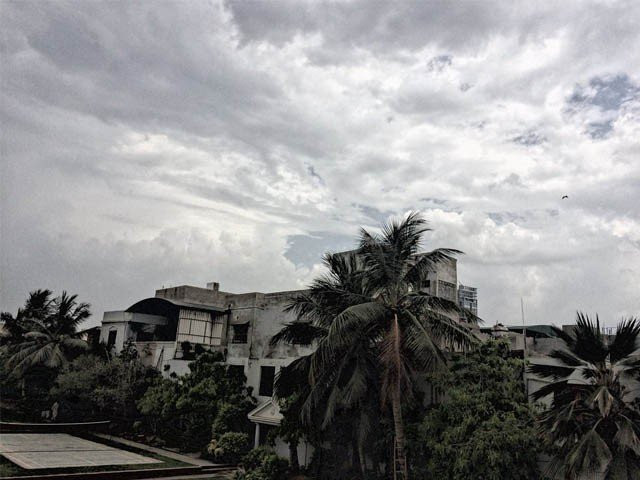 ---
The Pakistan Meteorological Department (PMD) forecast on Friday that Karachi is expected to receive its first spell of monsoon rains from June 22 (Wednesday).
The met department said there are also chances of light drizzle in the port city during night or early morning over the next 24 hours, Express News reported.
The city is currently experiencing wind speed of up to 18km per hour from the southwest, which is expected to keep the city's minimum temperature at 29 degrees Celsius.
The maximum temperature in Karachi is expected to be between 33 and 35 degrees Celsius while the humidity is 72 per cent at present.
The weather will remain hot and humid for the next 24 hours, the officials said.
On the other hand, monsoon rains continue to lash the upper parts of Punjab, including Islamabad.
The met department said the current spell of rains in Punjab will continue intermittently for two more days.
Also read: Karachi's weather turns pleasant due to light rain
Earlier this week, the PMD forecast pre-monsoon rain-thundershowers in most parts of the country.
The PMD said that as a result, the showers will significantly bring down the mercury and nourish the crops, vegetables, and orchards by improving the water availability.
However, the dust thunderstorms may inflict damage to loose structures in Khyber Pakhtunkhwa (K-P), Islamabad, Punjab, Gilgit Baltistan (G-B) and Kashmir during the forecast period.
Heavy rainfall may trigger landslides in Kashmir, Gilgit-Baltistan, and the upper parts of Khyber Pakhtunkhwa and may generate flash flooding in the eastern parts of Balochistan Naseerabad, Jaffarabad, Jhal Magsi, Harnai, Sibbi and Bolan.
COMMENTS
Comments are moderated and generally will be posted if they are on-topic and not abusive.
For more information, please see our Comments FAQ