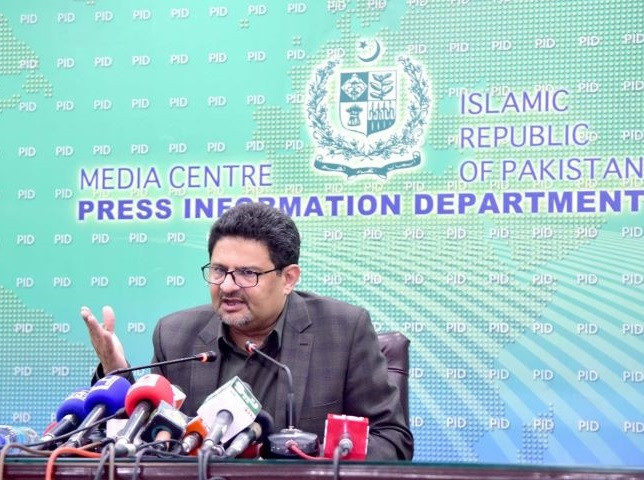 ---
Finance Minister Miftah Ismail predicted on Tuesday that country's GDP will grow by 5%-6% and the government would control the high rate of inflation.
The minister's remarks came as he addressed the pre-budget seminar, in which he also revealed that the government has prepared a progressive fiscal budget, with the deficit reduced to below 5%.
The minister further stated that he was "very confident" about the deal with the International Monetary Fund (IMF).
"We have taken tough decisions; it is not easy for any prime minister to allow such an increase in fuel prices but we were taking losses. We incurred more than 120 billion rupees in losses per month," the minister stated.
The IMF agreement was signed by the PTI government and stipulated the removal of fuel subsidies, he said.
'Successful negotiations'
Speaking of the current government's 'successful' negotiations, Miftah said that the government had re-engaged with China, Saudi Arabia and the United Arab Emirates (UAE) among other countries.
"China agreed to re-roll their programme of $2.4 billion after Foreign Minister Bilawal Bhutto met with Chinese prime minister [Li Keqiang]. China has reduced the interest rate from 2.5% to 1.5% which will save the country $23 million," Miftah added.
Read PTI, PML-N deadlock puts question mark on Punjab's new budget
He further stated that the KSA had also agreed to increase the "line of oil" provided to Pakistan and provide the country revolving credit of 100 million dollars.
Miftah stated that the incumbent government inherited a country that had the third highest inflation in the world, with 20 million people who fell below the poverty line, and mass unemployment.
He added that the country's debt servicing had increased exponentially due to the volume of loans the PTI government took on.
The finance minister also discussed the targeted subsides announced - a one-time Rs2,000 per family subsidy for 14 million households. The Rs2,000 will be given in June and it will cost the government Rs28 billion. Besides 7.3 million BISP beneficiaries, the package covers 6.7 million households with poverty scores below 37.
'Inherently flawed economy'
The minister stated that the model of Pakistan's economy was "inherently flawed". "We make the rich richer," he said.
Miftah stated that the country's industry and consumers rely heavily on imports, which push the current account into a deficit. He added that Pakistan's economy emphasizes on import substitution and not export promotion, a model that that has persevered in various developing countries.
The minister also commented that the country has no major export other than textile, as the agricultural sector fails to remain productive.
COMMENTS
Comments are moderated and generally will be posted if they are on-topic and not abusive.
For more information, please see our Comments FAQ