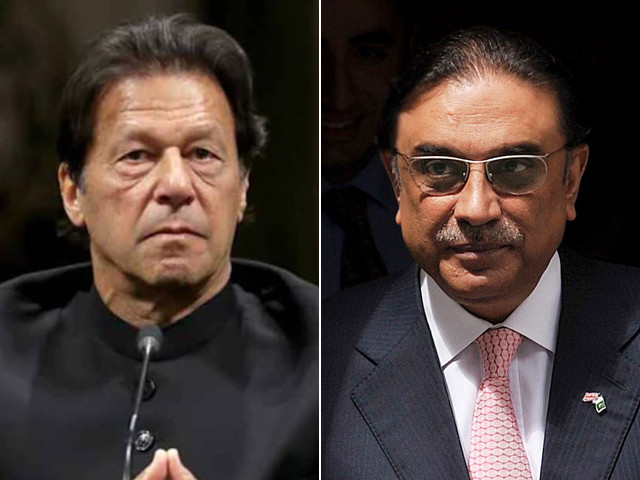 ---
An audio clip of an alleged conversation between former president Asif Ali Zardari and property tycoon Malik Riaz which took place before the no-confidence motion against former Prime Minister Imran Khan, has been leaked on social media in which Riaz can be heard saying that former premier wanted to reconcile with the PPP co-chairman.
During the conversation, Riaz said that he had been receiving several messages from Imran Khan.
"Sir, I just wanted to inform you about a matter that I have told you about before. I had told you that I wanted to talk to you about something and you told me that we would discuss it later," Malik told Zardari during the telephone call.
"I just wanted to let you know that [Imran] Khan has sent me several messages for reconciliation in a patch-up bid between you and him, and today, he has sent lots of messages to me," the property tycoon said to Zardari, who is known for his reconciliatory politics.
Read more: Imran Khan becomes Pakistan's first premier to be unseated by parliamentary revolt
However, in response, the former president said: "But, it is impossible now."
"Yes, it's okay, I just wanted to bring this thing to your notice," Malik responded.
In April, the cricketer-turned-politician was voted out from power through a vote of a no-confidence motion, becoming the first prime minister in the country's history to be unseated by a parliamentary revolt.
The joint opposition's no-confidence motion, which required 172 votes in the 342-strong parliament to pass, was supported by 174 lawmakers, shaking the political earth of the country with an unprecedented ouster of the premier and seemingly bringing to an end the protracted crisis.
Later, Shehbaz Sharif was elected as the country's 23rd prime minister after a NA vote.
Also read: Zardari blasts Imran for 'attacking' institutions
Meanwhile, PTI leader Shahbaz Gill, while denying the reports, has said that the politicians from then opposition had been asking for NRO (amnesty) from Imran Khan.
ایک کاروباری شخص اور ایک عمران خان کا مخالف سیاستدان آپس میں بات چیت کر رہے ہیں جس میں عمران خان سے منصوب باتیں کی جا رہی ہیں جن باتوں کا حقیقت سے کوئی لینا دینا نہیں ہے-عمران خان کو کسی NRO کی ضرورت نہیں بلکہ یہ تمام لوگ خان سے NRO مانگتے رہے ہیں۔ جو کہ نہیں ملا۔یہ سٹوری جھوٹ ہے

— Dr. Shahbaz GiLL (@SHABAZGIL) May 28, 2022
"A business personality and an anti-Imran Khan politician are having a conversation which is being attributed to Imran Khan. However, the conversation has nothing to do with reality," he added.
He said that Imran Khan did not need NRO (amnesty) from anyone. Rather, he added, all these politicians had been asking for one which wasn't given to them.
COMMENTS
Comments are moderated and generally will be posted if they are on-topic and not abusive.
For more information, please see our Comments FAQ