 ---
A temporary steel bridge has been constructed by the Frontier Works Organisation (FWO) to restore the link to the central and upper Hunza regions.
The newly constructed bridge can sustain light to medium vehicle traffic and the permanent bridge, which got washed away in a Glacial Lake Outburst Flood (GLOF) originating from the Shisper glacier.
The reconstruction of the permanent bridge will take six to eight months.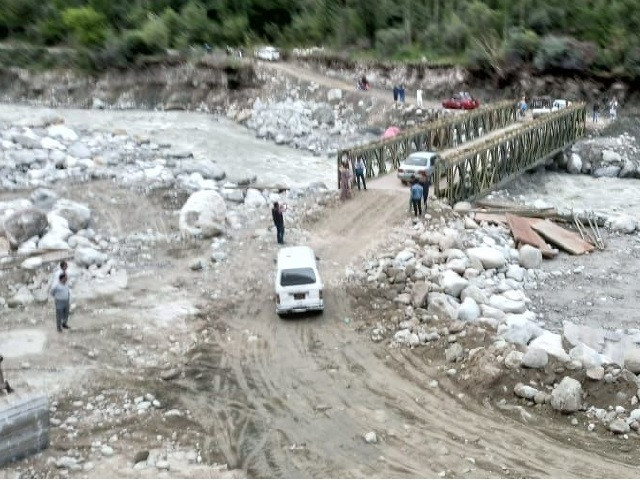 The incident left the Hassanabad area disconnected from other parts of the country.
Read: Climate change: a real threat to Pakistan
Prime Minister (PM) Shehbaz Sharif had taken notice of the GLOF and directed the concerned authorities to immediately enable the required emergency measures to cope with the situation in Gilgit-Baltistan (G-B).
PM Shehbaz had also directed authorities to shift affected families and their movable articles to safe areas and mobilise supplies of food, medicines, and other emergency equipment to the affected area.
On May 16, while chairing an emergency meeting on climate change in Islamabad, the PM had been briefed on the developments in G-B where he had directed chairman National Disaster Management Authority (NDMA) to visit Hunza and ordered the immediate reconstruction of the bridge that collapsed in the Shisper Glacier incident.
Read more: Climate change and economies
Due to the emergent nature of national importance and to facilitate the commuters, FWO teams were mobilized at the site to re-establish the link at Karakorum Highway by installing a temporary steel bridge.
COMMENTS
Comments are moderated and generally will be posted if they are on-topic and not abusive.
For more information, please see our Comments FAQ