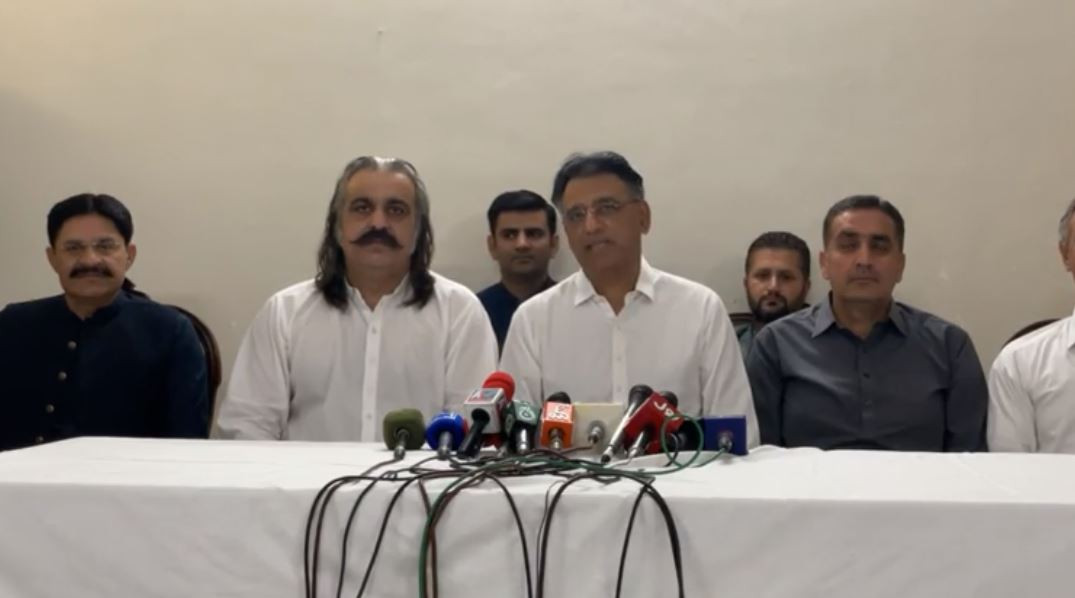 ---
Former federal minister and Pakistan Tehreek-e-Insaf (PTI) leader Asad Umar on Sunday claimed that ex-prime minister Imran Khan tried his best to "save the masses from inflation" as he called for early elections to save the economy from further deterioration.
Addressing a press conference in Islamabad, the PTI leader demanded early elections saying the new government could not decide on how to manage the economy and the snap polls were the only solution to take the country out of the current crisis.
Umar listed his government's economic achievements during its four-year tenure and claimed the economy was functioning smoothly until the no-confidence motion against Imran. He said the motion with the alleged help of foreign powers was brought against the PTI chief because the "economy was doing great".
Read Didn't enter politics to keep a lid on potato prices: PM Imran
Umar claimed that the industrial sector, trade and power generation witnessed growth and added that economic growth this year would hit six per cent. He said that the PTI government had introduced "farmer-friendly" policies that resulted in record growth.
The sugarcane crop recorded 9.6% higher growth compared to the last year. The corn crop also saw a record increase, he added.
According to Umar, the economic situation post-Imran government was "precarious". He added that foreign exchange reserves were reduced by $6 billion since the no-confidence motion against Imran.
"On the one hand, the foreign exchange reserves were declining while on the other, the government facing difficult in borrowing money from outside Pakistan," he said. Umar said the government was indecisive about the economic decision as the government and its allies were looking toward each other for decision-making.
Read more Dollar to fall only after coming out of clutches of 'PTI-IMF' deal: Miftah
The former minister said that the patience of the masses was running thin and the best solution to avoid any untoward situation is to call snap polls.
As the economy deteriorates, the PTI has started taking on the government citing "economic progress" during its decade. On Friday, Imran Khan had claimed that he had warned the military establishment about an "economic tailspin" if the motion against his government succeeded.
The PTI leader said the interest rate was highest at 15 per cent since 1998 while the stock market lost 3,000 points and inflation rose to 13.4 per cent due to the "lowest ever confidence" in the government.
COMMENTS
Comments are moderated and generally will be posted if they are on-topic and not abusive.
For more information, please see our Comments FAQ