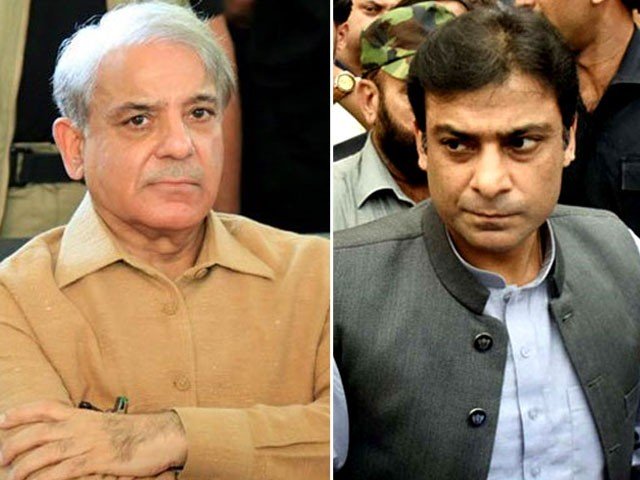 ---
LAHORE:
A special court central judge summoned Prime Minister Shehbaz Sharif and Punjab Chief Minister Hamza Shehbaz by May 14 to frame charges against them despite Federal Investigation Agency's (FIA) earlier decision not to prosecute the alleged money laundering case against them.
Shehbaz and his sons -- Hamza and Suleman -- were booked by the FIA in November 2020 under Sections 419, 420, 468, 471, 34 and 109 of the PPC and 5(2) and 5(3) of the Prevention of Corruption Act and r/w 3/4 of Anti Money Laundering Act.
Fourteen others were also named in the FIR under Sections 5(2) and 5(3) (criminal misconduct) of the Prevention of Corruption Act, read with 3/4 of the Anti-Money Laundering Act.
Read More: PM may be indicted in money laundering case on May 1
In a detailed order released on May 12, it was learnt that on April 11 an "application for intimation" was submitted before the court by FIA's special prosecutor Sikandar Zulqarnain Saleem contending that DG FIA through Investigation Officer (IO) of the case conveyed to him not to appear in the case as accused are going to be elected as prime minister and chief minister.
It said that the concerned quarters are not interested to prosecute the accused persons. He further requested to make this application part of the record. However, the court adjourned the proceedings by April 27 for the framing of charges.
However, on April 27, PM Shehbaz sought exemption from personal appearance, owing to a meeting with the cabinet committee as a result of which the charge could not be framed. Then the court fixed May 14 for framing charges.
It is pertinent to mention that the judge was hearing pre-arrest bails of PM Shehbaz Sharif and newly elect Punjab CM Hamza Shehbaz in an alleged money laundering case of Rs.16 billion.
Earlier in the day, the FIA decided to not pursue the money laundering case against PM Shehbaz and others. Special Court Judge Ijaz Hassan Awan issued the written order at the request of the agency's prosecutor and also made the request by the FIA prosecution team a part of the case record.
The written order issued by the court states that following the previous hearing of the case on April 11, FIA Special Prosecutor Sikandar Zulqarnain filed a petition of 'no interest' in the trial.
Zulqarnain further stated that DG FIA had asked the investigating officer to not appear in the case against the premier.
"The concerned FIA officials show no interest in the trial against Shehbaz Sharif, Hamza Shahbaz and others," the prosecutor prayed.
COMMENTS
Comments are moderated and generally will be posted if they are on-topic and not abusive.
For more information, please see our Comments FAQ