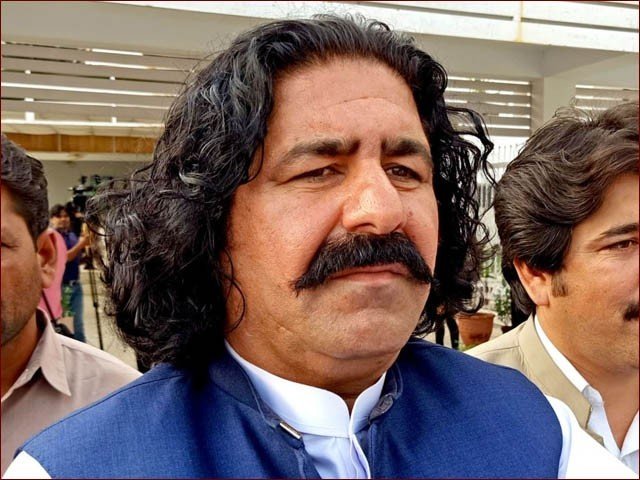 ---
The Sindh High Court (SHC) on Wednesday granted bail to Pashtun Tahaffuz Movement (PTM) lawmaker Ali Wazir in a hate speech case registered against him at a Karachi police station.
A two-member bench headed by Justice Muhammad Iqbal Kalhoro accepted the bail plea of the incarcerated MNA from South Waziristan and asked him to submit a surety bond worth Rs0.5 million.
Wazir's lawyer Salahuddin said co-accused MNA Mohsin Dawar was being considered for the post of a federal minister while his client was languishing in jail for being "anti-state". Justice Kalhoro smiled at the remarks of the lawyer.
The SHC judge asked the police to produce the transcript of the speech made by Ali Wazir that was being dubbed as "provocative". He asked how could a person, police constable Manzoor, who cannot comprehend the language of the speech – Pashto – say the speech allegedly incited hatred against the army and the state.
Read ECP seeks evidence in MNA disqualification case
The judge also inquired about Dawar, asking why was the other accused not been arrested in the said case.
The investigation officer said the police could not arrest Dawar as they needed the permission of the National Assembly speaker before arresting the MNA. "Ali Wazir was already in prison in a case registered at Sohrab Goth police station," the IO said, adding that the lawmaker was detained in the Shah Latif Town case while being in jail.
Wazir's lawyer said his client was arrested in another case after the SC granted him bail in the Sohrab Goth case.
The SHC judge also took police to the task over their highhandedness. He said the police are acting in a "monarchical" manner. The case has been pending since 2018 but not a single witness recorded a statement," he said, adding that the police didn't even bother to arrest the co-accused.
It further asked whether the police approached the court after the suspects in the case got their bails approved by the court. "The police did not challenge the court's decision to grant bails to suspects," the IO added.
In a tweet, MNA Mohsin Dawar said another court will hear Wazir's bail plea on Thursday in a different case. "We are hoping for the courts to do justice," he added.
Sindh High Court has granted bail to @Aliwazirna50 in the Shah Lateef Town case today which is great news for all of us. Ali's bail in one more case is to be heard in ATC tomorrow. We are hoping for the courts to do justice and hope he will be granted bail by the ATC.

— Mohsin Dawar (@mjdawar) May 11, 2022
COMMENTS
Comments are moderated and generally will be posted if they are on-topic and not abusive.
For more information, please see our Comments FAQ