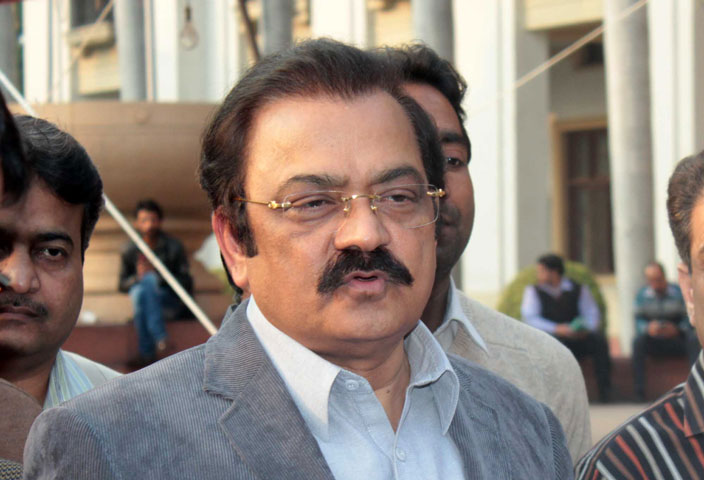 ---
ISLAMABAD:
Interior Minister Rana Sanaullah on Saturday urged President Arif Alvi to discharge his constitutional responsibilities, advising the latter to unshackle himself former prime minister Imran Khan's "slavery".
In a statement, Sanaullah reminded Alvi that he was bound by the Constitution to perform his duty as a president, rather than acting upon the dictates of the Pakistan Tehreek-e-Insaf (PTI) chairman.
The minister stressed that the country would be run according to the Constitution and not upon the whims of Imran Khan. "The office of president is a constitutional post which is above politics," he said.
"When it comes to performing constitutional obligations, the president along with governors and other PTI associates fall sick," he regretted in a reference
The statement comes amid reported inflaming partisan tensions between the new government and the president, who famously skirted administering the oath to PM Shehbaz and has shown reluctance to fall in line with the new dispensation.
Read: LHC directs Alvi to arrange for CM's oath-taking
The president had excused himself from administering the oath of office to the former, citing health issues – a reason he repeated for refraining from administering the oath to the new cabinet as well.
However, on Friday, Alvi administered the oath to three federal ministers and one minister of state for PM Shehbaz Sharif's cabinet at the Aiwan-i-Sadr, the first time the president led the ceremony involving members of the new government.
Punjab without CM
In a statement on Saturday, the interior minister also deplored the ongoing constitutional crisis in Punjab where the matters pertaining to the chief minister slot lingered on.
"The order of Lahore High Court (LHC) is being continuously violated after defying the Supreme Court directives," he regretted, adding the provincial government was functioning with the crucial chief ministerial chair lying empty and in the absence of cabinet members for the last 21 days.
The president should meet his constitutional obligation and immediately nominate a person to administrator oath to the newly elected chief minister, he said.
The power struggle in Punjab turned acrimonious when the newly appointed Punjab Governor Omer Sarfraz Cheema on April 17, a day after the election of the chief minister, refused to administer oath to chief minister-elect Hamza on the grounds that the legality of the election has come under question.
In a move to remedy the situation, PM Shehbaz immediately sacked the governor -- only to face another hindrance as the president allowed the governor to continue in office.

COMMENTS
Comments are moderated and generally will be posted if they are on-topic and not abusive.
For more information, please see our Comments FAQ