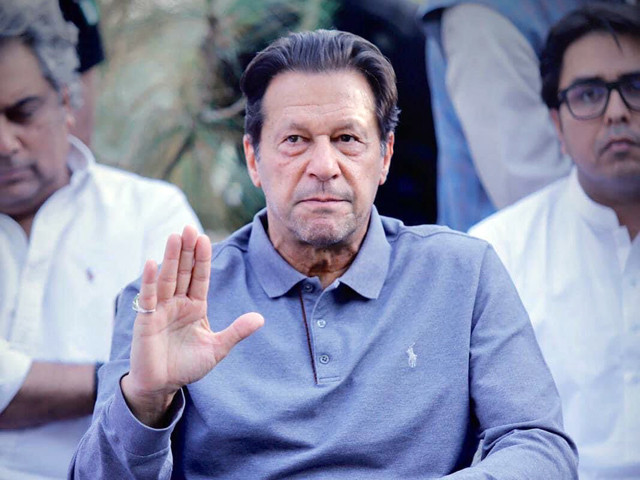 ---
ISLAMABAD:
In his maiden news conference in Islamabad after being ousted as prime minister, PTI Chairman Imran Khan on Saturday said he had directed his party leaders and activists to begin preparations for a long march on Islamabad to achieve "real freedom".
"A sea of people will converge on Islamabad… people have woken up to the reality as to how corrupt rulers were imposed on them," he added.
The deposed premier also urged the top court to hold an open hearing of the matter involving a "diplomatic cable containing a threat to his government from the US".
"The Supreme Court should have done this a long time ago. Just like it had taken notice of the issue of the [National Assembly] deputy speaker, it should have taken up this matter too," he added as he claimed that the high-powered National Security Committee (NSC) had also endorsed that the cable was genuine.
Imran maintained that Friday's NSC huddle had "vindicated" his claim of foreign conspiracy and also "validated" the minutes of the body's meeting held last month when he was the prime minister.
The NSC meeting chaired by PM Shehbaz Sharif had concluded that no evidence of "foreign conspiracy" to topple Imran's government had been found, but at the same time it had endorsed the decisions made in its previous meeting.
"The NSC confirmed that the [diplomatic] cable was original and the conversation between Pakistan and US officials was real," Imran claimed.
"It takes time but the truth eventually comes to the surface."
The former premier added that many people had unwittingly become part of this conspiracy but he was aware that it was "hatched in London".
The PTI chief claimed that PML-N supremo Nawaz Sharif, his brother Prime Minister Shehbaz Sharif and PPP Co-Chairperson Asif Ali Zardari had colluded with "foreign conspirators" to dislodge his government through a vote of no-confidence.
"No prime minister would be able to hold out against foreign conspiracies in future if no investigation was carried out [into alleged threat letter]," he said while urging the state institutions to take a stand against alleged foreign plot to protect country's sovereignty.
Imran said the language used by US official Donald Lu during his meeting with Pakistan's ex-ambassador to Washington against his government was "unprecedented" and "threatening".
"I will go a step forward and say that he [Lu] was arrogant. The Joe Biden administration official told our ambassador that Imran Khan will have to be removed through a no-confidence motion," the PTI chairman claimed.
"The US official had told the Pakistani diplomat that everything would be forgiven for Islamabad if he [Imran] was removed from office."
Imran claimed that following this meeting, the PTI's allies started "realising" that the country's situation was not well and that the then-government needed to be removed from power.
"But let me tell you, our economic situation was very good. Our exports, remittances, tax collection, agricultural output, and the price of agricultural products were all historic."
He also lashed out at the opponents for terming the telegram as a routine matter, calling them "shameless".
"We came to know in January that a foreign conspiracy was being hatched against my government," said the former PM.
Imran maintained that the "conspirators" knew who would come to power after him.
"[Former military ruler] General [retd Pervez] Musharraf had given an NRO [amnesty] to the opposition after his meeting with [then US Secretary of State] Condoleezza Rice. The disadvantage of this was that after that NRO, the debt of the country quadrupled because corrupt people had joined the government."
The PTI chief maintained that once PPP founder Zulfikar Ali Bhutto and then Musharraf had received such threats. "They caved in and eventually the Afghan war started. So such language shouldn't be taken lightly."
Speaking about the party dissidents, Imran urged the apex court to hold day-day to hearing on his petition seeking the disqualification of rebel lawmakers.
"If our institutions do not take a stand against this [horse-trading]… then our country's future is in danger."
He also accused the Election Commission of Pakistan (ECP) of being partial in the foreign funding case, demanding its chief to step down immediately.
Imran criticised the government's decision of striking down names from the no-fly list, saying the decision was made to provide "safe exit" to corrupt individuals.
"Put my name on Exit Control List (ECL). I don't want to go anywhere."
Imran said PM Shehbaz and his sons would have to answer to the Federal Investigation Agency (FIA) for the Rs40 billion that they had accumulated "through corruption".
However, he added that PM Shehbaz had changed the FIA director general in a bid to avert accountability.
The PTI chairman further claimed that 70% of the incumbent federal cabinet members were on the ECL.
He also demanded that PM Shehbaz should tender an apology to the nation for claiming that there was no "threatening" diplomatic cable.
COMMENTS
Comments are moderated and generally will be posted if they are on-topic and not abusive.
For more information, please see our Comments FAQ