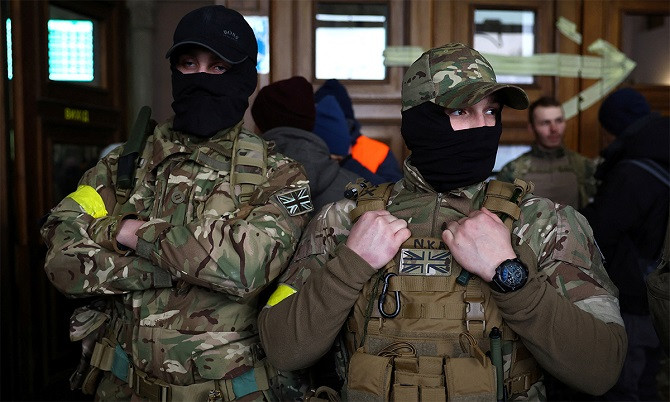 ---
Russia has released data on the foreign mercenaries fighting its forces in Ukraine, saying that a total of 6,824 fighters from 63 countries had arrived in Ukraine to join the war.
In a statement released on Sunday, the Russian defence ministry said that 1,035 of those fighters had been "destroyed" while several thousand remained, RT reported.
It went on to add that no less than 400 foreign mercenaries were currently in Mariupol where Ukraine has refused to surrender.
The data detailed that the largest number of fighters, 1,717, arrived from Poland, 1,500 from the US, Canada and Romania, up to 300 each from the UK and Georgia and 193 came from the Syrian areas controlled by Turkey.
Ministry spokesperson Major General Igor Konashenkov claimed 1,035 foreign mercenaries had been killed by Russian forces while 912 fled, leaving only 4,877 active in Kiev, Mariupol, Nikolaev, Nikolaev, and Kharkov.
Also read: Russia vows no mercy for foreign mercenaries in Ukraine
"Most of them are citizens of European countries, as well as Canada," Konashenkov added.
The spokesperson also said about 400 foreign mercenaries in Mariupol had been asked to lay down arms with a guarantee that they won't be killed "In case of further resistance, all of them will be destroyed," he maintained.
He warned that the mercenaries did not have the status of 'combatants' under International Humanitarian Law. "They came to Ukraine to earn money by killing Slavs. Therefore, the best that awaits them is a criminal liability and long prison terms."
A few days after the war began, Ukraine had promised visa-free access to foreigners willing to join the fight. But the recruitment came to a halt in early April as the officials saw the arrival of untrained fighters as a hindrance, not a help.
Some mercenaries also shared horror stories of how they were sent to the frontline sans arms and ammunition. The recruitment also suffered a serious blow when a Russian missile hit the training centre set up for the purpose.
COMMENTS
Comments are moderated and generally will be posted if they are on-topic and not abusive.
For more information, please see our Comments FAQ