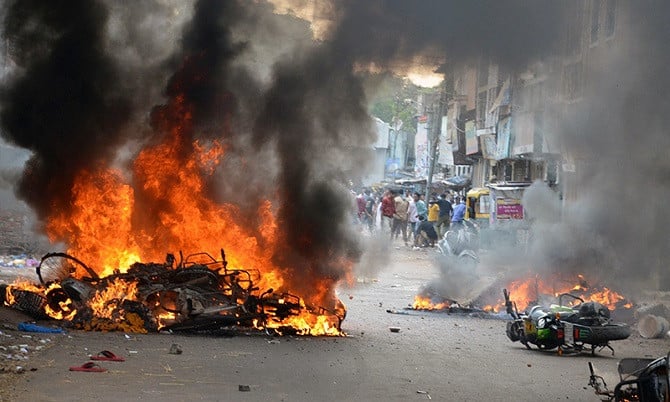 ---
NEW DELHI:
Top leaders of India's opposition political parties on Saturday voiced concern over the rise in hate speech incidents in the country and condemned recent communal violence across several states during the holy Hindu festival.
Leaders of 13 opposition parties, including Indian National Congress President Sonia Gandhi and West Bengal Chief Minister Mamata Banerjee, issued a joint statement, expressing their outrage at how issues such as food, dress, faith, festivals, and language "are being deliberately used by sections of the ruling establishment to polarize our society."
In recent weeks, right-wing groups in the southern state of Karnataka have launched anti-Muslim campaigns, including the exclusion of Muslim traders from fairs near Hindu temples and a push to ban halal meat.
The state where a number of Muslim schoolgirls were first prohibited from entering the classroom wearing the hijab, or headscarf, earlier this year, has now snowballed into a campaign against Muslims.
Concerned about recent communal violence in various states, opposition leaders said "reports indicate that there is a sinister pattern in the areas where these incidents have occurred."
Also read: WATCH: Hindu hardliner openly calls for Muslim genocide in India
They added: "We are extremely concerned with the growing incidents of hate speech in the country by people, who appear to have official patronage and against whom no meaningful and strong action is being taken."
Of late, there has been an increase in attacks on minorities in India, particularly Muslims. Communal clashes were witnessed earlier this week during the Hindu festival of Ram Navami in a number of states.
In the Khargone city in the central Madhya Pradesh state, the authorities demolished the houses of many Muslims after they were accused of stone-pelting a Hindu procession.
This week, a number of videos surfaced on social media showing a procession of Hindu men during the festival stopping in Muslim neighbourhoods, playing provocative songs against Muslims, and raising hate slogans.
The leaders expressed shock at Prime Minister Narendra Modi's silence for failing to "speak against the words and actions of those who propagate bigotry and those who, by their words and actions, incite and provoke our society."
This silence, they said, is "an eloquent testimony to the fact that such private armed mobs enjoy the luxury of official patronage."
Also read: 'India heading towards genocide of Muslims'
The statement also noted that social media and audio-visual platforms are being "misused with official patronage to spread hatred and prejudice."
"We reiterate our collective resolve to work together to strengthen the bonds of social harmony that have defined and enriched India for centuries," these leaders stated, arguing that the country will prosper only if it respects, accommodates and celebrates its diversities.
"We reiterate our commitment to combat and confront the poisonous ideologies which are attempting to entrench divisiveness in our society," they declared.
The top political opposition leaders also appealed to the people to maintain "peace and foil the sinister objective of those who wish to sharpen communal polarisation."
They called on "all our party units across the country to independently and jointly work for maintaining peace and harmony."
When asked for a comment on the opposition party leaders' joint appeal, ruling Bhartiya Janata Party spokesman Syed Zafar Islam said he will respond soon.