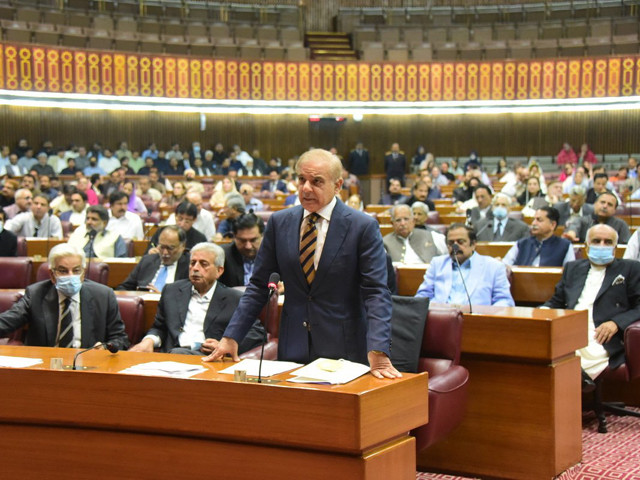 ---
LAHORE:
Pakistan Tehreek-e-Insaf's rule finally succumbed to a parliamentary revolt in the wee hours of Sunday. Out of many hands that thumped the desks after dealing a final fatal blow to the regime, a few of them happened to be too familiar with the tethers – both literally and metaphorically – of Imran Khan's accountability drive.
The striking memory of Khan's rule to linger for years - at least in the minds of his rivals - will be that of his aggressive accountability drive against political opponents, particularly the Sharifs who remained embroiled in corruption cases and were at times consequently locked away.
In December 2019, the National Accountability Bureau seized nearly two dozen properties belonging to Sharif and his son Hamza, accusing them of money laundering.
He was arrested and detained in September 2020, but released around six months later on bail for a trial which is still pending.
However, the supporters of the 70-year-old have charged that the graft cases against him stemmed from a political vendetta by Imran Khan and therefore, devoid of any substance.
Merely a few days before being ousted, the embattled Imran Khan-led government decided to challenge the bail order of the opposition leader.
The PML-N president, who is expected to be the 23rd prime minister of the country, was released on bail in April 2021 in the money-laundering case. A special court (Central-I) of FIA is likely to indict Shehbaz and Hamza in a Rs14 billion money laundering case on Monday (April 11).
However, the case now faces uncertainty as the Federal Investigation Agency Lahore chief, who is probing the money laundering cases against the father-son duo, has gone on leave for an indefinite period.
In September 2020, Sharif was arrested by the NAB after the Lahore High Court rejected his bail plea in the same case. Shehbaz was taken into custody from the court's premises, where a large number of PML-N workers and supporters had gathered ahead of the hearing.
However, on most occasions, doors would be shut to the public during his court appearances, strictly disallowing anyone to enter the premises for as long as the proceedings continued.
Reacting to Shehbaz's arrest, PML-N vice president Maryam Nawaz, said in a tweet: "Make no mistake. Shehbaz Sharif has been arrested ONLY because he REFUSED to play in the hands of those who wanted to use him against his brother. He preferred standing behind prison bars than to stand against his brother."
'Political victimisation'
In October 2018, in a dramatic turn of events, the country's top accountability watchdog arrested Shehbaz Sharif over his alleged involvement in a multi-billion rupees housing scam, the Ashiyana-e-Iqbal Housing Project.
Shehbaz was arrested by the National Accountability Bureau inside its Lahore office where he was summoned to record his statement before a combined investigations team in connection with the Punjab Saaf Pani Company case.
The news of Shehbaz's arrest came forth when his security staff and vehicle were sent back by NAB officials about 40 minutes after his arrival at the NAB office and spread like wildfire.
Right after the arrest, the security of the NAB office was beefed up. Extra contingents of police and rangers were deployed inside and outside the watchdog's Lahore headquarters.
The arrest prompted protests of supporters and clamour against what the party alleged had been an act of 'political victimisation'.
It is pertinent to mention that Shehbaz has not been found guilty on any charges.
COMMENTS
Comments are moderated and generally will be posted if they are on-topic and not abusive.
For more information, please see our Comments FAQ