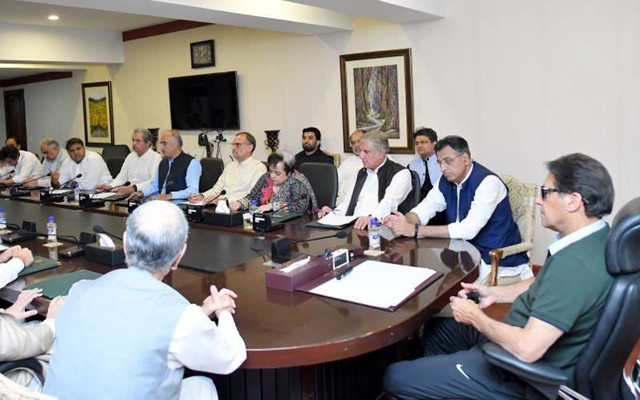 ---
KARACHI:
The majority of Pakistan Tehreek-e-Insaf (PTI) central executive committee (CEC) members have strongly opposed the idea of resignation en masse from national and provincial assemblies in view of the current political situation in the country, it emerged on Sunday.
Sources privy to the development told The Express Tribune that after the disagreement, the former ruling party's core committee has decided to give the final say in the matter to party chairman Imran Khan and its parliamentary committee.
Also read: PTI protests against 'foreign conspiracy' against Imran Khan
The opposing members said during the party's core committee meeting, presided over by PTI chief Imran Khan at his Bani Gala residence, that resigning from the assemblies now would be tantamount to committing "political suicide".
Read more: Fawad says PTI has decided to quit assemblies
Sources said that majority of the members urged to remain part of the democratic process by sitting on the opposition benches in assemblies while others said that all members should resign immediately.
PTI leader Faisal Vawda, speaking to The Express Tribune on the issue, said that a final decision in this regard would be taken during an upcoming parliamentary party's meeting.
Earlier in the day, PTI senior leader Fawad Chaudhry said that the PTI has decided to resign en masse from the assemblies and the process to quit assemblies will start from the National Assembly on Monday.
In a tweet, Fawad, who served as an information minister in Imran Khan's cabinet, said, "The PTI has decided to resign from assemblies. This process [of resignations] will start from National Assembly tomorrow after the election of the prime minister."
Also read: Struggle against 'foreign conspiracy' begins today: Imran Khan
Meanwhile, speaking to the media in Islamabad following a meeting of the PTI's Central Executive Committee (CEC), Fawad said the CEC meeting at Bani Gala analysed the political situation after the ouster of Imran Khan through a no-confidence motion.
Fawad said the CEC suggested resignations en masse from the lower house of parliament if PTI's reservations regarding the nomination of PML-N President Shehbaz Sharif as the PM remained unaddressed. "If our reservations on Shehbaz are not addressed, we will resign en masse on Monday," he added.
COMMENTS
Comments are moderated and generally will be posted if they are on-topic and not abusive.
For more information, please see our Comments FAQ