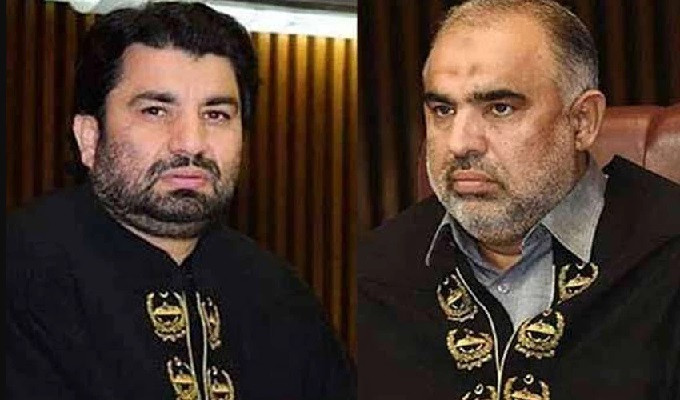 ---
ISLAMABAD:
National Assembly Speaker Asad Qaiser and his deputy, Qasim Khan Suri resigned in a dramatic late-night development that paved the way for the panel of chairmen to conduct voting on the no-confidence resolution against the prime minister.
The assembly session, which was convened on the orders of the Supreme Court, saw repeated adjournments as the government dragged its feet on the no-trust move with the prime minister refusing to give in despite his party losing the parliamentary majority.
While the nation waited with bated breath for the outcome of the no-confidence vote, the speaker's dilly-dallying only tested the opposition's patience. Finally, the opposition parties wrote a letter to the speaker urging him to reconvene the house and complete the agenda.
The letter titled 'Contempt of order of the august Supreme Court of Pakistan' carried the signatures of the leaders of all parliamentary leaders, including PML-N's Shehbaz Sharif, PPP's Bilawal Bhutto Zardari, MMA's Maulana Asad Mahmood, MQM-P's Khalid Maqbool Siddiqui, BNP-M's Akhter Mengal, BAP's Khalid Magsi, Independent MNA Mohsin Dawar and ANP's Amir Haider Khan Hoti.
The letter stated, "When the proceedings started today, the opposition leader requested that item No 4 on the Orders of the Day relating to voting on the resolution for a vote of no confidence against the prime minister be taken up immediately.
Also read: Imran Khan becomes country's first PM to be ousted through no-trust vote
"However, you gave the floor to the minister of foreign affairs to make a speech and then suspended the proceedings after barely half an hour.
"The proceedings resumed at 2pm under the chairmanship of Amjad Ali Niazi, who in blatant contempt of the order, proceeded to allow ministers to make lengthy speeches on subjects totally unrelated to item No 4.
"Repeated requests on the part of the opposition members to take up item No 4 and to start voting on the resolution were ignored by him. This illegal action continued even after the prayer breaks.
"You are once again strongly urged to take up item No 4 of the orders of the day without any further delay and initiate voting on the resolution of no confidence against the prime minister forthwith."
On April 7, the top court set aside Deputy Speaker Suri's ruling of dismissing the no-trust motion earlier during the week and the subsequent dissolution of the assembly by the president on the prime minister's advice. The SC had ordered to hold the no-trust vote on Saturday.
COMMENTS
Comments are moderated and generally will be posted if they are on-topic and not abusive.
For more information, please see our Comments FAQ