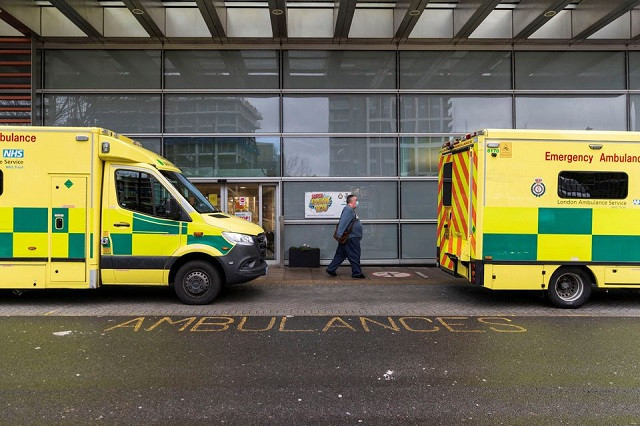 ---
LONDON:
Driven by the omicron BA.2 variant, coronavirus cases across the UK have risen significantly in recent weeks following the end of all COVID-19 restrictions.
Figures from the Office for National Statistics showed that 4.9 million people in the UK were infected with the virus between March 20 and 26 March, up from 4.3 million in the previous week.
Meanwhile, discovery of the new XE variant in the UK raised concerns, and the government updated its official list of COVID-19 symptoms. The new signs include shortness of breath, sore throat, muscle pains and diarrhea.
Last month, the UK Health Security Agency (UKHSA) detected the presence of XE – a recombinant of omicron BA.1 and BA.2 – in the UK.
According to the agency, the XE strain was first discovered in the UK in mid-January, and 637 cases have been reported to date.
Prof. Susan Hopkins, chief medical adviser at the UKHSA, had said that XE showed a "variable growth rate" but there was not enough evidence to draw conclusions about its transmissibility.
Amid these developments, UK tour operators on Tuesday warned of further flight cancellations and travel disruptions during the Easter holiday break.
EasyJet, one of the UK's popular tour providers, had already cancelled 62 scheduled flights on Monday and called off over 200 flights on Saturday and Sunday. The cancellations, according to the company, are due to rising coronavirus cases and mass staff absences due to sickness.
"As a result of the current high rates of COVID infections across Europe, like all businesses, easyJet is experiencing higher than usual levels of employee sickness and so we have taken the action to cancel some flights in advance, in order to give customers notice," it said in a statement.
"We have focused on consolidating flights where we have multiple frequencies so customers have more options to rebook their travel, often on the same day, and we expect to make similar levels of pre-emptive cancellations over the coming days, due to the ongoing high level of sickness," the tour operator added.
COMMENTS
Comments are moderated and generally will be posted if they are on-topic and not abusive.
For more information, please see our Comments FAQ