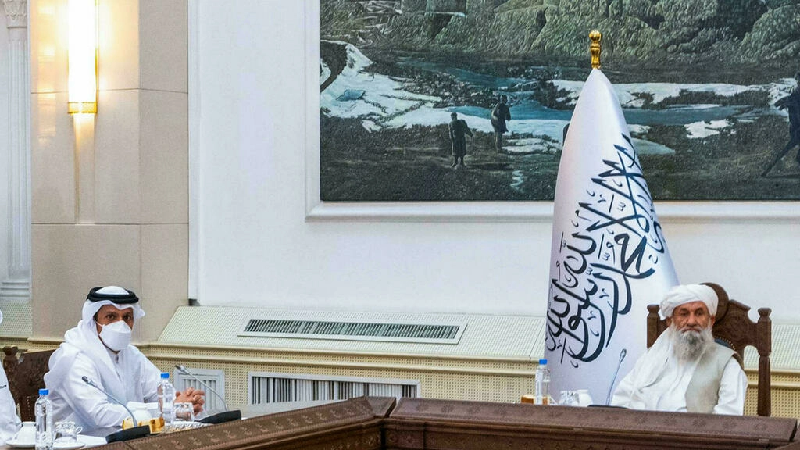 ---
ISTANBUL:
Senior officials from Afghanistan, Indonesia, and Qatar met in Doha at the weekend for talks on the situation in Afghanistan, an Afghan official said on Monday.
The three-way meeting of acting Afghan Foreign Minister Amir Khan Muttaqi, Indonesian Foreign Minister Retno Marsudi, and Lolwah Al-Khater, deputy foreign minister of Qatar, was held on Sunday, said Abdul Qahar Balkhi, a spokesperson for the Afghanistan Foreign Ministry.
The comprehensive talks addressed the humanitarian, economic, and educational situation in Afghanistan, Balkhi said on Twitter.
"The Qatari and Indonesian sides assured the Afghan side of their readiness to provide humanitarian aid to the people of Afghanistan," he added.
According to Balkhi, Marsudi "pledged to assist the educational institutions in Afghanistan and also grant educational scholarships to Afghan students."
Marsudi said in a separate tweet that she and Qatar's Lolwah Al-Khater "discussed humanitarian issue(s) and education for all in Afghanistan."
The Taliban-led interim government has barred girls above the sixth grade from attending schools due to a lack of proper Islamic laws which are in the process of being formulated.
The Afghan spokesperson said Al-Khater pledged to open Qatar's Charity Foundation and Qatari Red Crescent offices in Kabul soon.
Meanwhile, Muttaqi met Qatar's Foreign Minister and Deputy Premier Mohammed bin Abdulrahman Al Thani in Doha on Monday.
The meeting discussed the progress made between Afghanistan and Qatar regarding the operation of Kabul International Airport, Balkhi said.
COMMENTS
Comments are moderated and generally will be posted if they are on-topic and not abusive.
For more information, please see our Comments FAQ