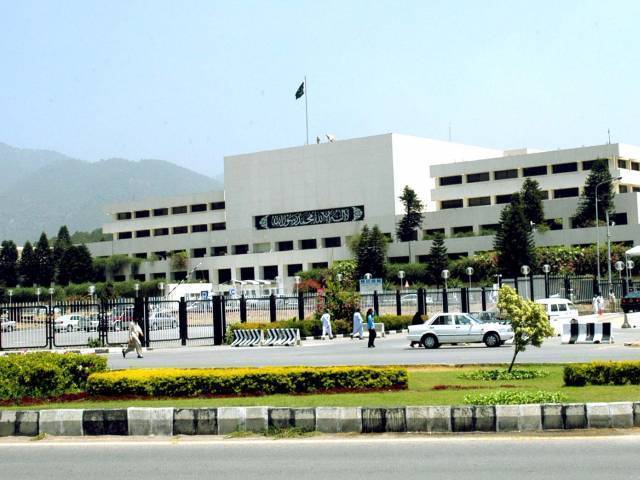 ---
ISLAMABAD:
Underscoring the need for parliamentary supremacy and representative governance in the country, the joint opposition on Wednesday pledged to work together, promising the subordination of administrative to an elected parliament.
In a joint statement issued on Pakistan Day, they vowed to work together for the realisation of Pakistan's historic dream, which guarantees the political, economic and social rights of the people of Pakistan.
They linked this with the successful execution of the no-confidence motion against PM Imran Khan. Their statement also illustrated the importance of March 23, when the Muslims of South Asia voiced their dream for an independent state, and they reiterated their commitment to make a "better Pakistan" following Prime Minister Imran's ouster from power through the vote of noconfidence. The opposition parties said that they would make Pakistan into a country where only the people would have the right to elect or dismiss their representatives.
Read More: Senate resolution affirms supremacy of parliament
They highlighted that the people of Pakistan, especially the poor middle class and the youth, were suffering from the worst inflation, unemployment and social insecurity due to the "failed policies and performance" of the PTI government. Therefore, they added, in order to save the country from the current crisis, it was necessary to immediately dismiss the "failed, incompetent and incompetent" government.
They called for the establishment of a "truly representative government" through free, fair and transparent elections, which should implement immediate and far-reaching measures for economic reform and economic development based on social justice in the country. The opposition parties also pledged to free the country from the debt trap, rid it of poverty, inflation, unemployment, illiteracy and disease.
The opposition further said that in order to ensure free and fair elections in the country, they would implement electoral reforms through consensus, thus eliminating "undemocratic interference" in the new system. They pledged to strengthen the 18th Amendment to the Constitution and provincial autonomy which would ensure the transfer of powers from the provinces to the empowered local governments constitutionally and administratively.
The rights of civil, human, economic, social, gender and minorities would be strongly guaranteed and legislation would be enacted to ensure the implementation of the rights granted to them by our Constitution, they assured.
The joint opposition also promised immediate and comprehensive relief policies for the poor, labourers, farmers and fixed income groups, while also pledging to strengthen the country's security institutions on a purely professional basis in the face of security challenges facing Pakistan.
They vowed to eliminate terrorism through effective implementation of the National Action Programme (NAP) and the National Internal Security Policy
COMMENTS
Comments are moderated and generally will be posted if they are on-topic and not abusive.
For more information, please see our Comments FAQ