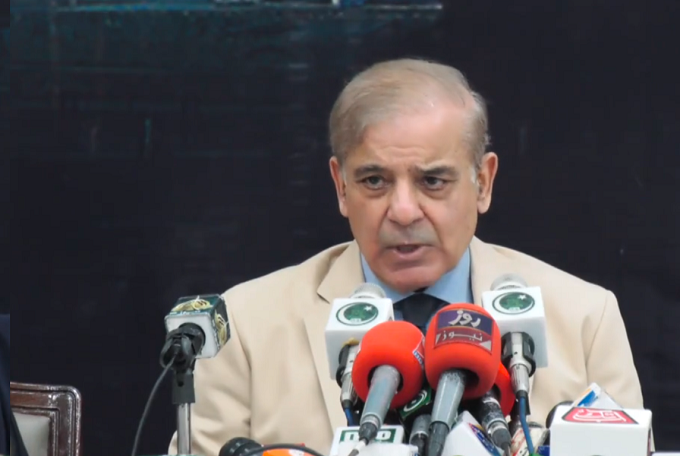 ---
ISLAMABAD:
Pakistan Muslim League-Nawaz (PML-N) President Shehbaz Sharif on Tuesday revealed that Chief of Army Staff General Qamar Javed Bajwa had told the political leadership of the country that former prime minister Nawaz Sharif had always treated him with respect and never refused any funds or help needed by Pakistan Army.
Admitting that the top national-level leadership had held several meetings with the incumbent army chief, including the ones to deal with the conditions set by the Financial Action Task Force (FATF), the PML-N stalwart disclosed that the army chief had talked about former premier's conduct with him and the armed forces.
"The incumbent chief of army staff in our several gatherings, including [that] on FATF, categorically said [former]prime minister NawazSharif has always respected me," Shehbaz said while emphasising that he was speaking quote-unquote.
"Whenever I [COAS] asked for any work related to armed forces; or sought any funds; he [Sharif] never refused me," Shehbaz, who is also the opposition leader in theNational Assembly, attributed to COAS as saying before dozens of leaders of political parties.
Read Uncertainty abounds around allies' line on no-trust
The revelation from the PML-N president came at a news conference held on the heels of an unconditional apology to former PMSharif from assets recovery firm Broadsheet LLC Chief Executive Officer KavehMoussavi. Shehbaz said that Moussavi's statement has not only "vindicated" Sharif and the Sharif family members but also exposed the witchhunt in the name of so-called accountability.
He, however, did not reveal exactly when these meetings took place where the army chief expressed the same before the country's top leadership. The party officials, requesting not to be named, could only add that the COAS had made the statements in different "security briefings" held inside and outside parliament.
The officials did not clarify if the army chief's statements had come before former PM Sharif's all guns blazing speech in Gujranwalain October 2020 or before he banned the party leadership from meeting with the army and intelligence leadership.
In October 2020, Sharif had accused the army chief of toppling his government to install a "selected and incompetent" prime minister(Imran Khan) in the country while addressing a rally of the Pakistan DemocraticMovement in Gujranwala via video link from London.
He had accused Gen Qamarand ISI chief Lt General FaizHameed of rigging elections, removing his government, muzzling the media, pressurising the judiciary and victimising opposition politicians.
Prior to that in September 2020, PML-N supremo Sharif had barred the PML-N leadership from holding meetings with the top military leadership and intelligence officials.
"If required by the national defence or the Constitution, then a meeting [with military, intelligence officials]would be held with the approval of the party leadership. And such a meeting would never be kept a secret," Sharif had written in a series of tweets.
COMMENTS
Comments are moderated and generally will be posted if they are on-topic and not abusive.
For more information, please see our Comments FAQ