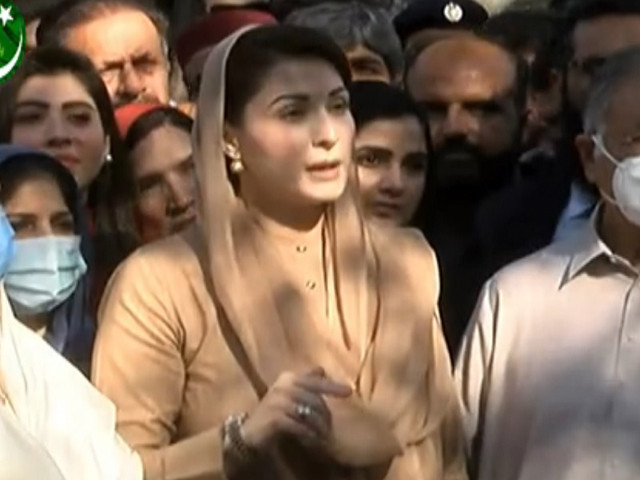 ---
ISLAMABAD:
Pakistan Muslim League-Nawaz (PML-N) vice-president Maryam Nawaz said on Monday that PML-N leader Shehbaz Sharif will be the party's candidate for the post of prime minister, in light of the no-trust vote against PM Imran being a success.
Responding to a question during a media talk outside the Islamabad High Court (IHC), Maryam stated that the opposition will "sit and decide" on the appointment of the next candidate for prime minister but the PML-N would nominate Shehbaz Sharif.
In view of the no-confidence motion tabled against the premier, the opposition leader added that delaying the session of the National Assembly was tantamount to "disobeying the Constitution and would invoke Article 6", adding that she was looking towards the courts in the event of constitutional distortion.
"Imran Khan! Your game is over," the PML-N leader said, adding that the Pakistan Tehreek-e-Insaf (PTI) had officially broken up. "The PM is aware that no one will come to his rescue now that he has lost the game," the PML-N vice president added.
"Imran Khan believes there to be an international conspiracy against him, but he conspires against himself. Had he fulfilled his duty, there would be no reason to mobilise one million people," she said.
Read Maryam Nawaz to lead PML-N caravan
Critiquing the PM's earlier statement that his main objective of joining politics was not to check the prices of potatoes and tomatoes, Maryam Nawaz said that had the PM Imran kept a tab on prices of wheat, ghee, sugar and petrol, the opposition would not have had to see this day.
Maryam also accused the PTI of interfering with the impartiality of state institutions. She claimed that while the ruling party "talks about neutrality", it does not abide by the Constitution.
"Even the FIA and NAB were not allowed to remain neutral, 22 years of struggle all gone to waste because of 'neutrality'," the PML-N leader observed.
Accusing the ruling party of rigging elections, the opposition leader added that "counting of votes was neither complete in 2018, nor was it complete [during the elections held] in Gilgit-Baltistan, Azad Kashmir as well as the Senate".
The PML-N leader said that the PTI was "slipping away like sand".
Referring to Imran Khan's comments that urged dissident PTI lawmakers to return to the ruling party's fold saying that he was ready to forgive them, Maryam Nawaz accused the premier of buying votes, claiming that he has "fallen victim to the rewards process, his own arrogance and pride".
COMMENTS
Comments are moderated and generally will be posted if they are on-topic and not abusive.
For more information, please see our Comments FAQ