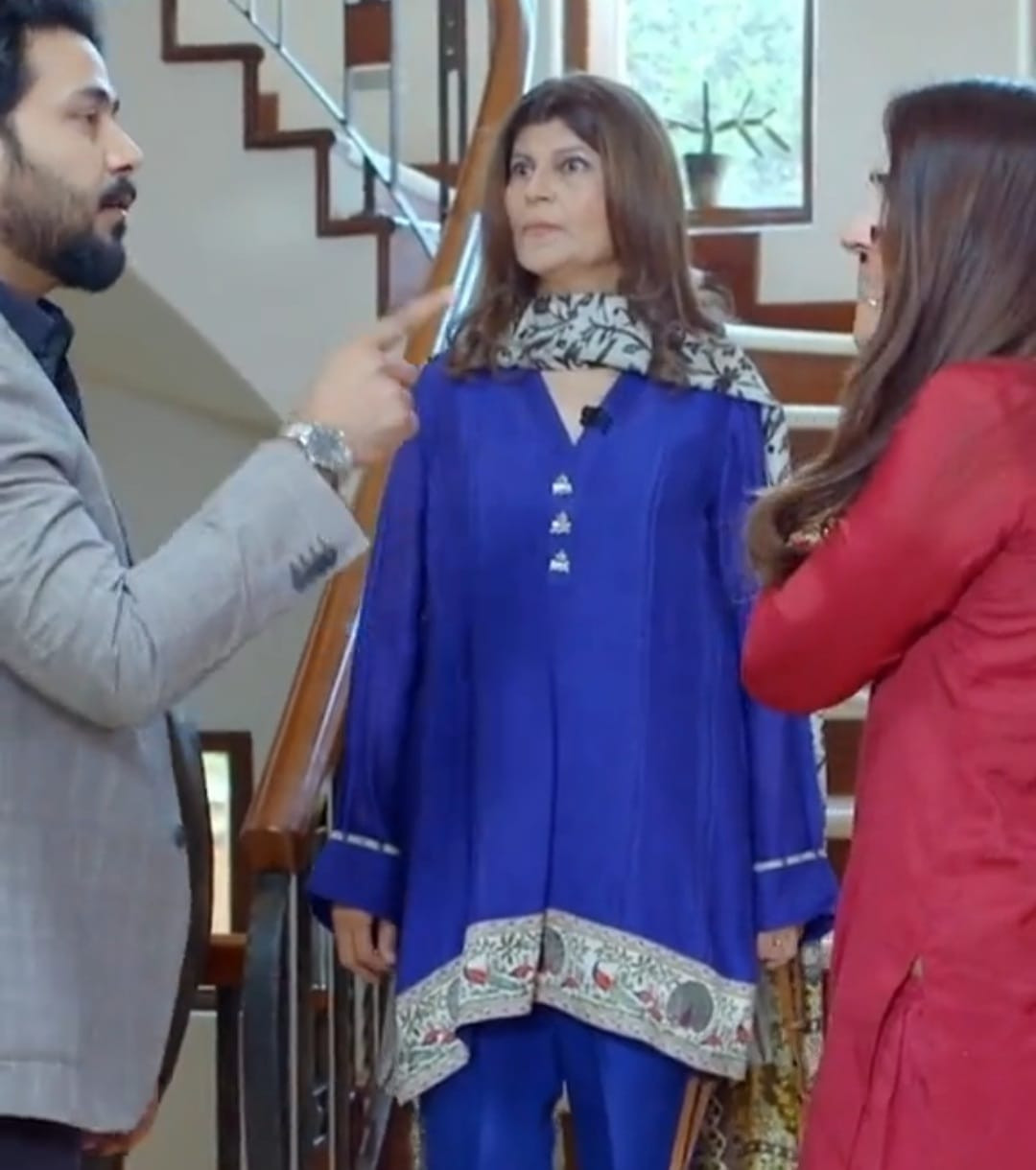 ---
With the rising cases of gender-based violence and domestic abuse in the country, you'd think that the television and film industry would take some responsibility by discouraging the same in their projects. But every once in a while, a woman is slapped on television for her choice of clothes, or speaking up for herself, and sometimes, even without reason. What makes things worse is when such plays are performed by renowned stars, who you would expect would know better.
The latest episode of Angna, a play currently being aired on ARY Digital, has netizens riling up over its toxic portrayal of a mother-son relationship and for normalising domestic abuse. The serial stars veteran actor Rubina Ashraf as the mother-in-law while actors Ali Abbas and Rabab Hashim play husband and wife.
Classified as a "family drama serial", fans are upset by Angna's irresponsible and run-of-the-mill take on unhealthy relationships and encouraging the man-child archetype.
The scene, in particular, sees Rubina's character objecting to her daughter-in law's dressing. The husband, played by Ali, is happy with the outfit and is seen complimenting his wife prior to his mother's entrance. When his mother asks his wife to change her outfit immediately, without even explaining herself, Ali retracts his statement and asks Rabab's character to go and change. When she calls him out, he slaps her and accuses her of lying.
What irked fans, in particular, was how illogical the scene is because both the women are wearing similar dresses. Not only did netizens call out the snowmakers for its ill-thought script, but also the cast for signing up for such a project. Here's what they had to say about how "done" they are with such "foul content."
This is the kind of filth we see in nearly every single television show in Pakistan and then wonder why our society is so fucked up.

Amazed that our actors, producers, writers and directors don't know better than to sign up for this crap.

A once proud industry destroyed https://t.co/6HA3bunbyB

— Nawab Hassan Hussein Qureshi (@HtotheQ) March 15, 2022
Also makes me really sad that someone of Rubina Ashraf's calibre is being made to do something like this. What a waste of her talents and power.

— Saba Eitizaz (@sabaeitizaz) March 15, 2022
Actor Samina Peerzada also commented on the viral scene and tweeted, "We have to stop this notion that slapping women in a scene will get ratings. Content will."
I retweeted Hassan Hussain's tweet about a scene from a play. it's not just the actors to be blamed for showing violence against women in plays but the entire set up starting from the top. We have to stop this notion that slapping women in a scene will get ratings. Content will.

— Samina Peerzada (@SaminaSays) March 16, 2022
Have something to add to the story? Share it in the comments below.
COMMENTS
Comments are moderated and generally will be posted if they are on-topic and not abusive.
For more information, please see our Comments FAQ