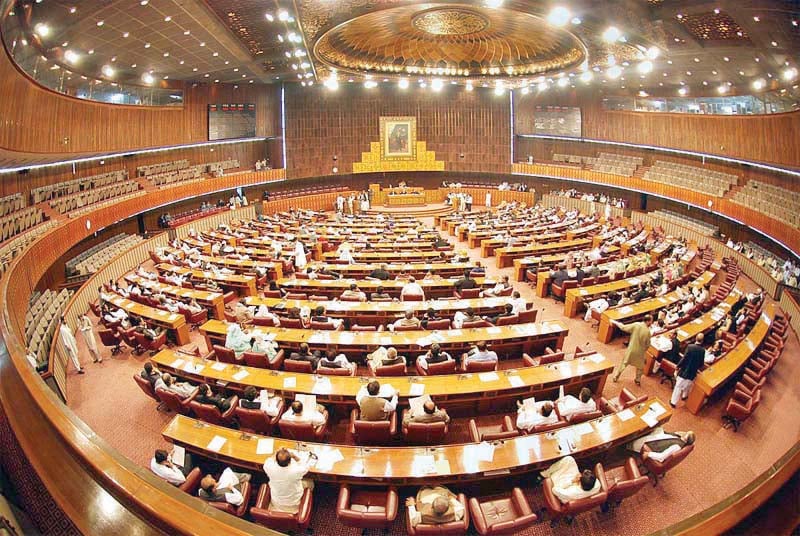 ---
ISLAMABAD:
Ever since the opposition filed requisition for a no-trust motion against Prime Minister Imran Khan in the lower house of parliament, it seems the decision to pick sides by the estranged members of the ruling PTI and its allies will be made once they finally start receiving "phones calls" from the "powerful circles".
Lawmakers, both from the treasury and opposition benches, have candidly admitted that they had received phone calls from the "powerful circles" in the past. They also revealed that the time to receive phone calls has yet to come as they are usually made on that particular day or just a day or two before that.
However, mainstream parties have warned that they would not approve of the practice of influencing the outcome through phone calls, saying people would be named this time around as opposed to the past when identities were kept hidden and the issue was not openly discussed.
Read more: PML-N, Tareen group join hands to oust CM Buzdar
The matter recently surfaced once again after PML-Q's Tariq Bashir Cheema did not hesitate to admit about lawmakers receiving phone calls in the past on a talk show.
The PML-Q leader revealed that no phone calls had been received so far to pressure lawmakers to pick sides.
To a question when the ruling party's allies would openly side with the government or the opposition, a PML-N lawmaker replied: "As soon as they get a nod from the 'powerful circles'."
To the question as to what were the chances of the PML-Q and MQM-P supporting opposition on the no-trust motion, the lawmaker said: "Zero to 100% – depending on the nod."
Apart from Cheema admitting about phone calls made in the past, only the PML-N had issued a statement on February 20 alleging that lawmakers were being pressured through phone calls from Peshawar.
The party had warned that the practice should immediately end or it would be forced to name the people making these calls.
An MQM-P lawmaker, requesting anonymity, said the phone calls usually come on that particular day or just a day before something had to be done.
Also read: PM Imran says 'not worried' about no-confidence motion
"The time for receiving phone calls has yet to come so I can't really say if the establishment is neutral in no-trust motion or not," he added.
Pakistan Institute of Legislative Development and Transparency (PILDAT) President Ahmed Bilal Mehboob said apparently only the PML-N had so far claimed once that its members had received phone calls from certain quarters, but then it too had went into silent mode.
"If any such calls are received and members are coerced into voting on a particular way, it will not remain a secret for a long time and if it happens, it will be against democratic norms," the PILDAT president added.
"We should hope that no such phone calls are made or received and the MNAs make independent decisions to vote for or against the no-confidence motion."
PPP General Secretary Farhatullah Babar said his party neither expected, nor would it approve of phone calls by extraneous elements to influence vote outcome.
"We will keep a strict watch and respond appropriately if it happens," he added.
Additionally, the PPP leader said his party wanted to see PM Imran defeated and sent home democratically, constitutionally, and through a genuine political process peacefully.
"We don't want that by any other undemocratic or violent means."
The candid admission of receiving calls before crucial decision making has raised questions on the process of voting inside parliament and the whole democratic process.
The opposition parties have demanded that the "State" – a tacit reference to establishment – should remain neutral. However, the premier sees neutrality as nothing but "a trait of animals".
The ministers have openly been saying that the Constitution mandated institutions to stand with the government instead of staying neutral.
COMMENTS
Comments are moderated and generally will be posted if they are on-topic and not abusive.
For more information, please see our Comments FAQ