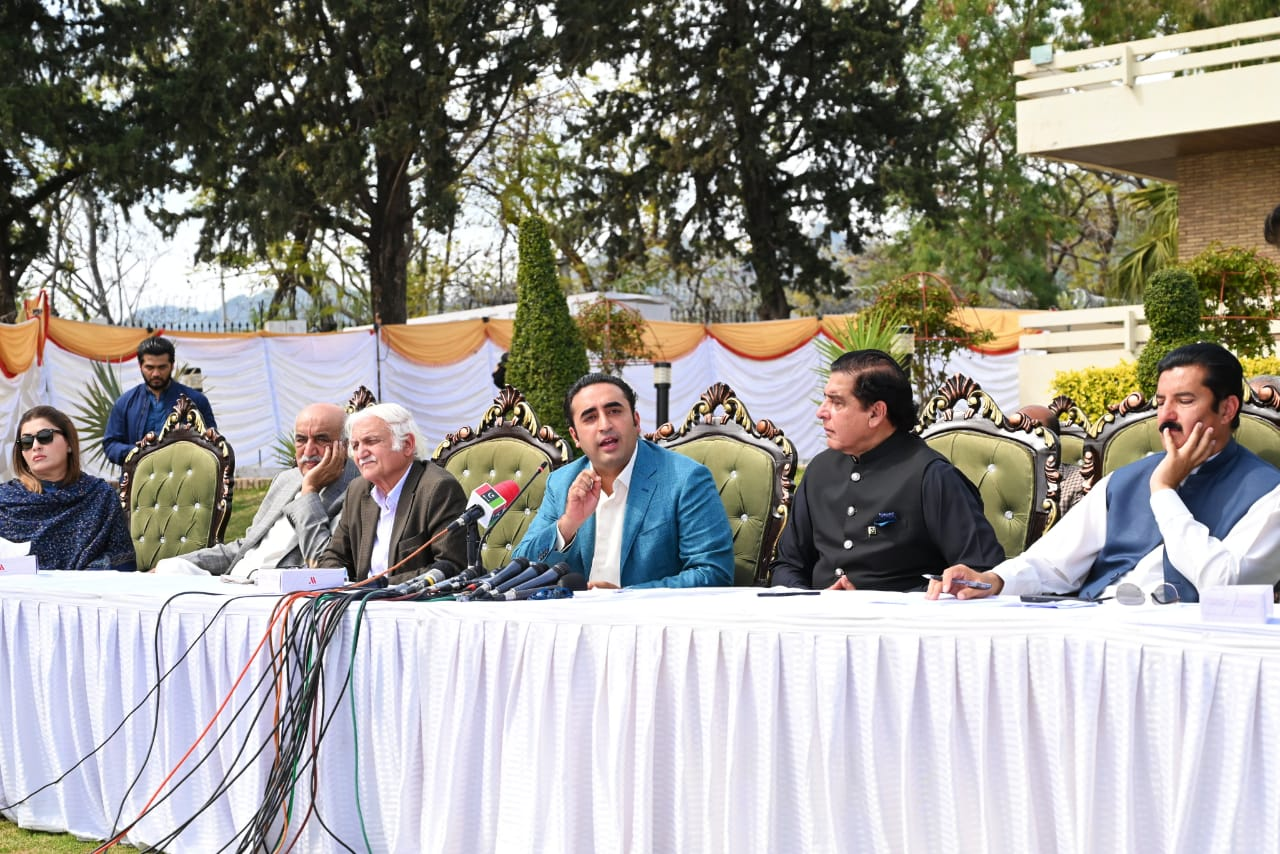 ---
ISLAMABAD:
PPP Chairman Bilawal Bhutto Zardari on Thursday told Prime Minister Imran Khan that the threats hurled at his father, former president and party co-chairperson Asif Ali Zardari, would not be tolerated and warned him to "prepare for the consequences."
A day earlier, the premier while speaking in Karachi, had said his first target would be Zardari and his gun was now pointed at the former president for his involvement in "corruption and money laundering".
Addressing a news conference in Islamabad, the PPP chairman retorted that his party had not used a gun, but knew how to use it.
"Do politics with us, but if you are threatening us, then you must be ready to face the consequences as well," he added, warning the premier that he would not be able to forget what he would do with him.
"I have endured a lot since my mother's martyrdom, I will not tolerate any longer."
Bilawal said at the time of his mother Benazir Bhutto's martyrdom, he was a teenager. "However, we are not children anymore. [PM Imran] Khan must keep this in mind."
The PPP chairman noted that two incidents had occurred that were intolerable. First, he claimed that the "physical attack" on his sister Aseefa Bhutto through a drone camera during his party's rally in Khanewal was a message for Zardari and the party.
"I exhibited patience because I believe in the freedom of the media. I saw the footage [of the drone hitting Aseefa] in every way possible and reached the conclusion that it did not happen suddenly."
Secondly, he said the premier was now openly threatening his father with a gun and this was intolerable.
Talking about his Islamabad-bound Awami March, Bilawal said the participants had turned it into a historic one as well as a no-confidence motion against the government.
"The people of all the provinces involved in this long march have rejected this selected prime minister," he added.
The PPP chairman maintained that the day was not far away when parliament would remove this "black spot" from itself, referring to the no-trust motion.
"As soon as the session is called, we will correct this mistake of 2018."
Bilawal said the government had planned to put his father and aunt, Faryal Talpur, behind bars, assuming that the PPP would remain silent. However, that did not happen."
Answering a query, the PPP chairman said the role of the establishment in the past was not a good one.
Without naming any institution, Bilawal added that it was hoped that no one would make any undemocratic or unconstitutional attempt to save PM Imran.
Read Bilawal gives PM 24 hours to dissolve assembly
A reporter asked the PPP chairman about whether or not the party would take PTI's Fawad Chaudhry back into its fold as it had done with Nadeem Afzal Chan.
Bilawal replied that there was only one Chan and Fawad was available in every market.
Talking about the PTI foreign funding case, Bilawal claimed that it had exposed PM Imran and the irregularities that he committed in the name of his mother to embezzle funds meant for the Shaukat Khanum Hospital.
He said he had never mentioned the first lady in any of his speeches.
"However, there are widespread rumours in Punjab that no government posting was allowed in the province before the first lady is bribed."
The PPP chairman claimed that PM Imran's sister, Aleema Khan, was involved in corruption and made a fortune by selling sewing machines.
Bilawal asked PM Imran to request the first lady to pray for President Zardari to form the next government. "Otherwise, [PML-President] Shehbaz Sharif will appoint a stronger interior minister."
COMMENTS
Comments are moderated and generally will be posted if they are on-topic and not abusive.
For more information, please see our Comments FAQ