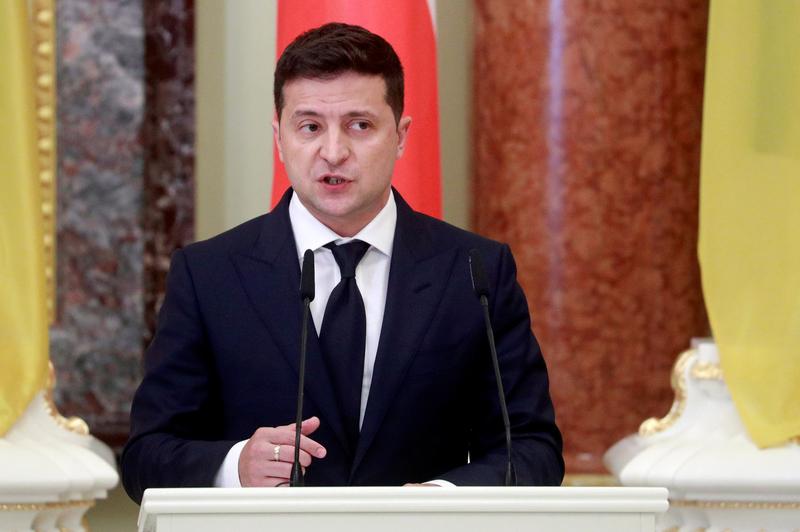 ---
Ukraine on Monday dismissed an offer from Moscow for humanitarian corridors that would lead refugees from bombarded cities into Russia and Belarus, as fresh talks got underway with slim hopes of ending the conflict.
Violence raged on day 12 of Russia's invasion of Ukraine, despite the evacuation proposal and the start of the third round of negotiations between the two countries.
The war has pushed more than 1.7 million people across Ukraine's borders in what the United Nations calls Europe's fastest growing refugee crisis since World War II, and the EU warned that figure could eventually reach five million.
International sanctions intended to punish Moscow have done little to slow the invasion, and Washington said it was now discussing a ban on Russian oil imports with Europe that pushed oil prices to a near 14-year high.
As global pressure mounted over horrifying scenes of civilians cut down during failed ceasefires, Moscow's defence ministry announced plans for humanitarian corridors and said a "regime of silence" had started at 0700 GMT.
But Ukraine rejected the proposal for the cities of Kharkiv, Kyiv, Mariupol and Sumy, as many of the routes led into Russia or its ally Belarus, raising questions over the safety of those who might use them.
"This is not an acceptable option," Ukrainian Deputy Prime Minister Iryna Vereshchuk said.
French President Emmanuel Macron, who spoke to Russian president Vladimir Putin on Sunday, accused Putin of hypocrisy and cynicism over the offer.
"All this is not serious, it is moral and political cynicism, which I find intolerable," he told LCI television in an interview.
Russia's negotiator at the peace talks that began on the Belarus-Poland border in return accused Ukraine of the "war crime" of blocking the corridors.
The talks would focus on "humanitarian corridors to evacuate" the civilian population in Ukraine, Belarusian news agency Belta said.
Also read: Russia opens humanitarian corridors to Ukrainian cities
Outgunned Ukrainian forces have been trying to hold back Russian forces besieging cities as they push up from the east and south up in an attempt to encircle the capital Kyiv.
AFP journalists witnessed thousands of civilians on Monday fleeing the fighting via an unofficial humanitarian corridor in Irpin, a strategic suburb west of Kyiv.
A day earlier eight people died there in shelling, Ukrainian officials said. Images of the killing of one family of four shocked the world on Sunday.
Children and the elderly were carried on carpets used as stretchers on the route, which leads over a makeshift bridge and then a single path secured by the army and volunteers.
Desperate people abandoned pushchairs and heavy suitcases to make sure they could get on the buses out of the war zone.
Ukraine's President Volodymyr Zelensky renewed calls for the West to boycott Russian exports, particularly oil, and to impose a no-fly zone to stop the carnage.
"How many more deaths and losses must it take to secure the skies over Ukraine?" he said in a video message.
Twelve days of fighting have killed hundreds of civilians and wounded thousands. An unending stream of people — mostly women and children -- has poured into neighbouring countries, especially Poland.
Western allies have imposed unprecedented sanctions against businesses, banks and billionaires in a bid to choke the Russian economy and pressure Moscow to halt its assault.
Moscow has been forced to restrict sales of essential goods to limit black-market speculation, while payment giants American Express, Visa and MasterCard have halted activities there.
COMMENTS
Comments are moderated and generally will be posted if they are on-topic and not abusive.
For more information, please see our Comments FAQ