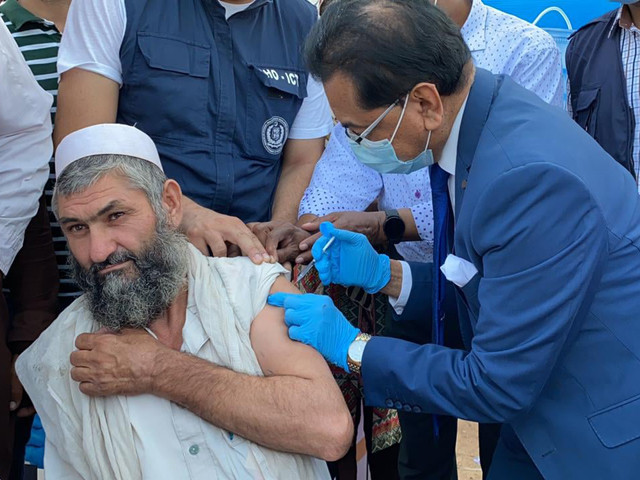 ---
PESHAWAR:
The Khyber-Pakhtunkhwa (K-P) Home and Tribal Affairs Department has imposed restrictions in Mardan district after the Covid-19 positivity ratio suddenly surpassed the 10 per cent threshold. As per the notification, indoor dining and indoor weddings have completely been banned while only 300 fully vaccinated participants are allowed in outdoor gatherings, who must follow the Covid-19 related standard operating procedures (SOPs). Outdoor dining is allowed in the district along with home delivery service and takeaways.
Around 50 per cent attendance is allowed in cinema halls and 80 per cent in public transport. In mosques or temples 50 per cent worshippers are allowed on the condition that they happen to be fully vaccinated. Water sports, indoor gyms and swimming pools will also remain open but will operate only at 50 per cent of the installed capacity. In those districts where positivity has been recorded below 10 per cent, 500 people will be allowed in indoor gatherings while there will be no curb on outdoor events. Similarly, there will be no restrictions on indoor and outdoor dining in districts with lower Covid positivity ratio.
Corona Rapid Response Force
Around 280 Corona Rapid Response teams across KhyberPakhtunkhwa (K-P) continued their boycott of duties on the fourth consecutive day on Tuesday against the non-payment of special allowance. Talking to The Express Tribune a member of the rapid response team said that they had not been paid their special allowance for the past 13 months despite repeated assurances by the K-P Health Department.
"Director General (DG) Health Dr Niaz has assured us repeatedly that the issue will be solved but we can't buy empty words anymore. The boycott will continue till all the allowances are transferred to our bank accounts," he said, adding that on Tuesday government released Rs100 million to pay for the two months allowances but they have decided to continue with their protest till the full payment.
COMMENTS
Comments are moderated and generally will be posted if they are on-topic and not abusive.
For more information, please see our Comments FAQ