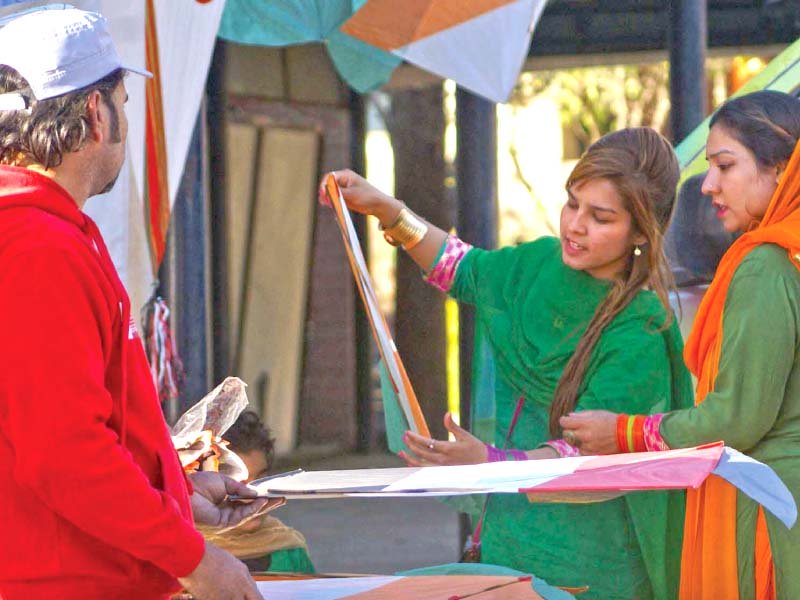 ---
LAHORE:
As revellers ring in the festive season of Basant, the spectre of death secretly lurks in the dark clouds along with unfettered kites that dot the sky despite a ban on them. Spotty law enforcement has only emboldened those prepping for the kite flying festival. Yellow - the ultimate symbol of spring – turns red when in the pursuit of victory, some kite-flyers use powdered glass or metal on their kite strings, giving themselves a competitive edge and spraying the sky with 'celebratory fires'.
Once cut, these strings fall on motorcyclists, residents or others in the vicinity -- slashing their throats.
Nematullah, 9, succumbed to his wounds inflicted by stray firing on Saturday, becoming the second child to die as citizens defied the ban on kite-flying in Rawalpindi. The 9-year-old was shot on Friday as citizens resorted to aerial firings while celebrating the banned spring festival. He was undergoing treatment at the District Headquarters Hospital, where he breathed his last.
So far, 70 people are reported to be injured in various incidents across Rawalpindi as kite-flying continues unabated. In the first seven weeks of the year 2022, a total of 2,600 cases were registered against kite-flyers and those indulging in jubilant firing across Punjab, and 2,700 people were arrested, according to a spokesperson for the provincial police.
Also, 187,117 kites and 4,874 strings were recovered from the kite-flyers and kite sellers.
The spokesperson said 1,681 cases were registered against kite-flyers and 1,792 people were arrested in Lahore to date. A total of 643 cases were registered and 601 suspects were rounded up over firing gunshots in the air in the country's cultural hub.
In the last 24 hours, 265 cases over kite-flying were registered in Lahore, 268 people were arrested, 1,940 kites and 307 string rolls were recovered as well. Also, 271 cases of jubilant firing were registered and 262 persons were arrested. The spokesperson further said over 1,000 cases of kite-flying and jubilant firing were registered in the Rawalpindi region and 1,120 people were arrested. The police recovered 107,185 kites and 1,979 string rolls from the arrested people.
A total of 323 people were arrested in the last 24 hours in Rawalpindi over kite-flying and jubilant firing.
In Multan, 23 cases of kite flying were registered, 23 persons were arrested, 1,417 kites, 50 string rolls were recovered, whereas 14 cases of jubilant firing were registered and 14 persons were arrested.
The country had imposed a ban on kite-flying in 2007 after many people lost their lives due to the recklessness that accompanies the festivities.
Citizens would often resort to the use of acid-soaked strings and piano wires, directly leading to casualties as loose strings slit the throats of motorcyclists. Moreover, unchecked aerial firing led to countless injuries and scores of casualties.
Speaking to The Express Tribune, a resident of Rawalpindi complained about the madness that accompanies the banned activity. The same sentiments are frequently aired by activists and members of the civil society who believe that kite-flying is not worth the joy it brings as it directly contributes to mourning elsewhere. While many suggestions have been put forth to make the activity safer, but so far, the ban has proven to be the most effective.
However, on Friday, the authorities could not stop citizens from flouting the ban. While the police claimed to have arrested over 200 people, who now face massive fines, people still continued flying their kites, only stopping to hide from the prying eyes of officers looking through binoculars.
Basant, which is traditionally observed as a festival of colours, has now been tainted with blood. While some defend it as one of the few remaining entertainments within the country, Friday's incident shows the danger it still poses to public safety.
COMMENTS
Comments are moderated and generally will be posted if they are on-topic and not abusive.
For more information, please see our Comments FAQ