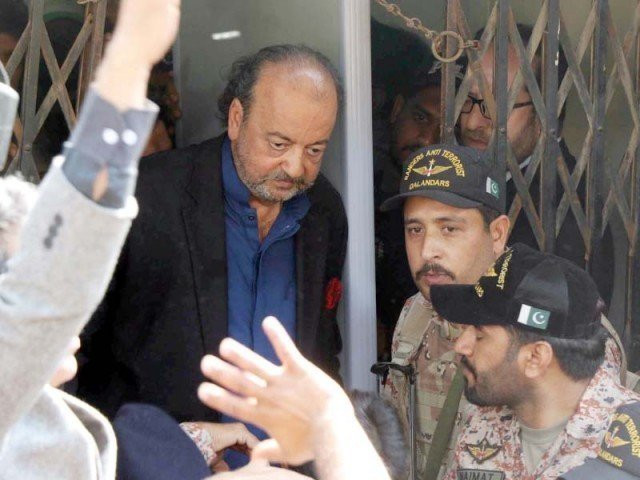 ---
ISLAMABAD:
The Supreme Court (SC) was informed on Wednesday that Pakistan People's Party (PPP) leader and Sindh Assembly Speaker Agha Siraj Durrani's total assets amount to Rs300 to Rs350 million.
A three-member bench of the apex court headed by Chief Justice of Pakistan (CJP) Umar Ata Bandial heard the bail plea of the PPP leader. It is worth mentioning here that he has been accused by the National Accountability Bureau (NAB) of amassing wealth through corrupt means.
Durrani's lawyer Salman Akram Raja appeared before the court, and after highlighting the allegations, said that anonymous assets have nothing to do with his client. He added that in his opinion, the PPP leader's assets amount to Rs300 to Rs350 million.
Justice Mansoor Ali Shah pointed out that Durrani had submitted a wealth statement of Rs82 million, which was not right either.
Raja said that his client's family has 900 acres of agriculture land, and his assets have been disclosed twice. He said that it is possible that the assets worth Rs1 billion belong to someone else.
Justice Shah asked where the watches worth Rs100 million were recovered from.
To this, the lawyer said that they were recovered from his client's locker. He said that they are old watches from 1940s to 1950s, whose valuation was determined by sending photos to private companies in Karachi. He added that NAB did not assess Durrani's income correctly as the cost of these watches is not the same as it was 40 years ago.
Read Benazirabad slayings dominate SA session
Raja said that the price of house in F-6 was Rs1.6 million, but it is Rs40 million now. Similarly, he said, the value of watches and dollars bought 50 years ago has changed.
CJP Bandial said that Durrani has been a public office holder ever since.
The lawyer replied that his client had held office between 1988 and 1993 and from 2008 till today.
The top judge asked whether his assets were disclosed to the Federal Board of Revenue (FBR).
To this, the lawyer said that all 11 properties were disclosed. He added that even the income tax record does not accurately reflect Durrani family's income, and agricultural income is not disclosed in them either.
Justice Shah asked whether people named in Durrani's records work for him, pointing out that NAB has noted Munawar as Durrani's gunman with millions to his name.
Raja said that NAB considers Munawar to be an employee, whereas he is a political activist.
Justice Ayesha A Malik said that what was the photocopy of Munawar's alleged Defense Housing Society (DHA) plot doing with them.
To this, the lawyer said that it is not possible that someone working with Durrani would be pursuing activities unknown to him.
CJP Bandial said that he is surprised how NAB has not included shotguns worth tens of millions of rupees.
He added that the main thing the defence lawyer has to explain is how properties were made in the city.
He pointed out that vehicular documents were also recovered from the Sindh Assembly speaker.
To this, Raja said that his client does not deny the ownership of some vehicles.
The NAB prosecutor told the court that Durrani does not need bail as he is not in jail, rather in his house.
The top judge said that the law is equal for all, and the court will look into the matter of declaring his house as the jail.
After this, the case was adjourned till Thursday.
COMMENTS
Comments are moderated and generally will be posted if they are on-topic and not abusive.
For more information, please see our Comments FAQ