 ---
Sahar Noon is a visual artist who graduated from NCA on scholarship and specialises in Optical Illusion Art. She curates one off bespoke furniture pieces along with DIY art pieces. Hand-painted mirrors, paintings, wardrobes all are tools for expressions for Sahar and she makes sure these unique pieces can bring energy and personality to an otherwise dull corner as any piece of furniture is essentially a canvas for artwork. Sahar shares some of her favourite painted pieces with TEdit.
The Dog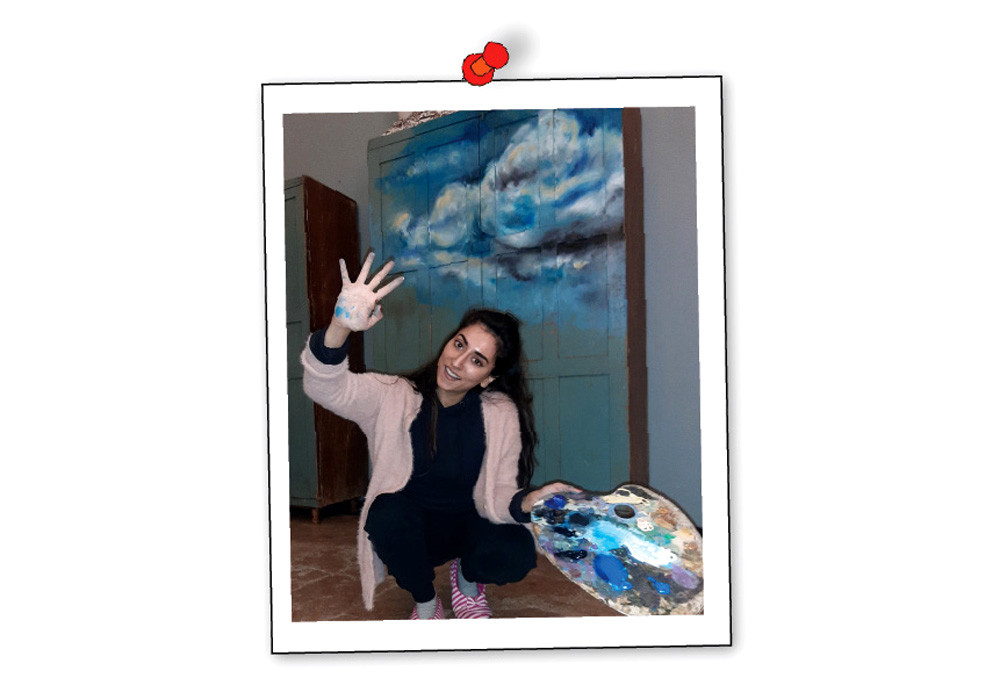 Sahar used oil as her medium to paint the dog image on the mirror which has a solid wood frame, 4x4 feet. This contemporary piece can be placed as a mantelpiece, head board or as decorative painting over a console or desk that is another way to add a unique or one-of- a –kind fine art piece to your home.
The Floor
This is a 3D optical illusion painting on a flat outdoor patio. Sahar painted the floor on commission for a client. Usually when decorating a room, people get to work overhauling the walls, furnishings and window treatments, but a key element is right beneath our feet and Sahar managed to create something fresh and unique. Sahar was allowed to use her brush strokes to create scenery to depict some element of underwater as it was around the pool area and the result was quite refreshing.
.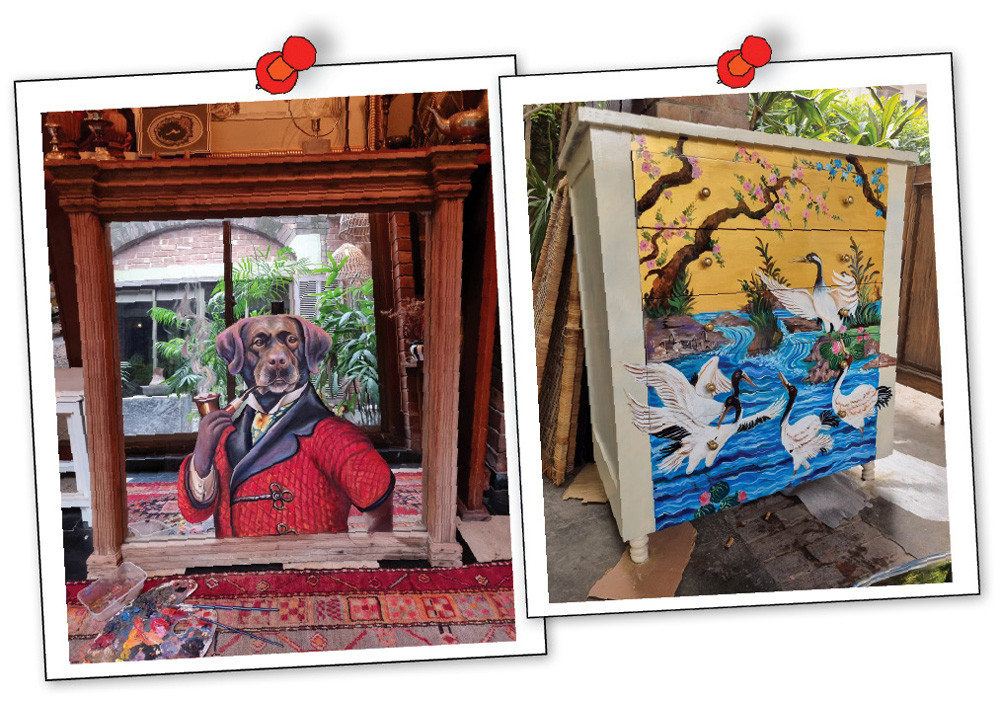 The Cloud cupboard
This is an illusion painting of a cloud on a cupboard. Sahar wanted to give the old antique cupboard a complete makeover. She created an illusion painting of a cloud on a cupboard and made something fun and interactive on it. The large cabinet front allows space for custom designs depicting dense clouds and bright blue sky with burnished brass lock.
Black and White floor
Forget rugs and carpets, here's how Sahar transformed the hallway floor with a few coats of paint. A paid collaboration with Happilac Paints, Sahar did an amazing job with the makeover. Happilac sent their industrial floor coating to Sahar to do an interior space makeover and it turned out to be a stylish interior reward.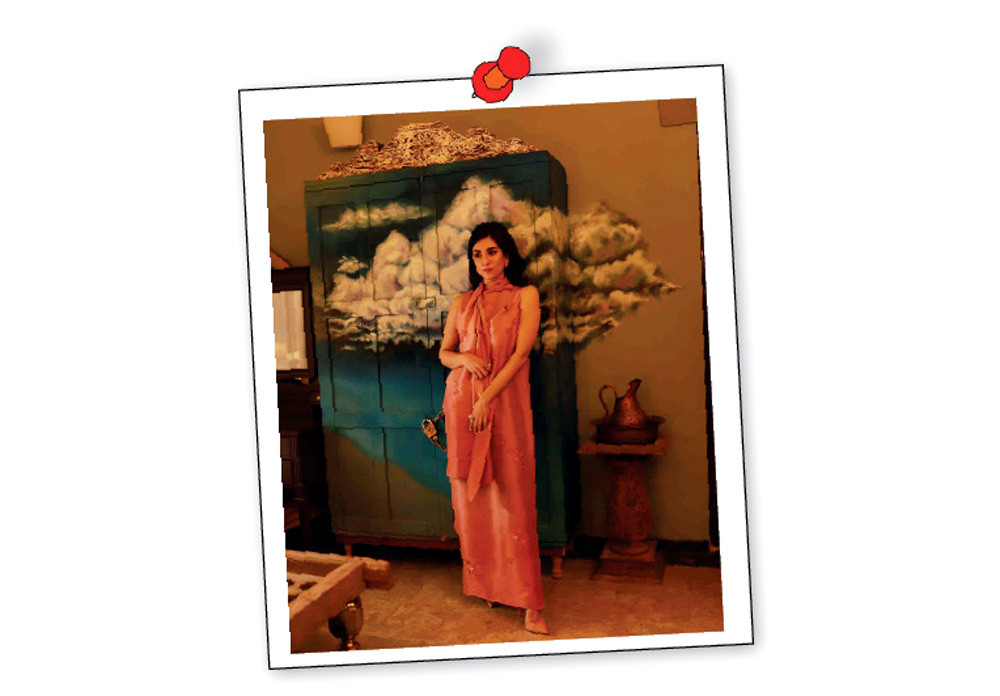 The Dresser
Painted furniture pieces add a pop of personality to a space. Sahar gave this custom order for a dresser a complete makeover. She painted a base coat- drew beautiful birds and floral, and changed the knobs to brass to give it a chic feminine look for the client. According to Sahar, bespoke pieces are always more in demand by clients than ever and such pieces add character to any room or space.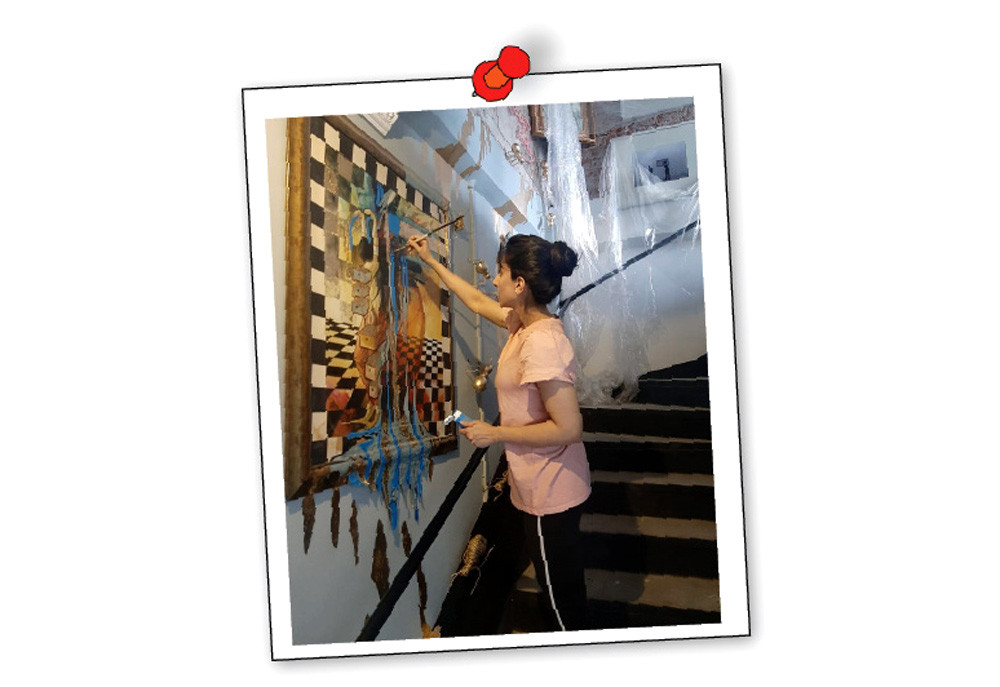 The Painting
Sahar created an optical art installation- she painted the landscape and then gave the illusion of the torn paper and masking tape over it. Whether antique or contemporary in style, decorative painting can add an intricate layer of character to any design scheme. The painting hangs at The Burning Giraffe café in Lahore.
COMMENTS
Comments are moderated and generally will be posted if they are on-topic and not abusive.
For more information, please see our Comments FAQ