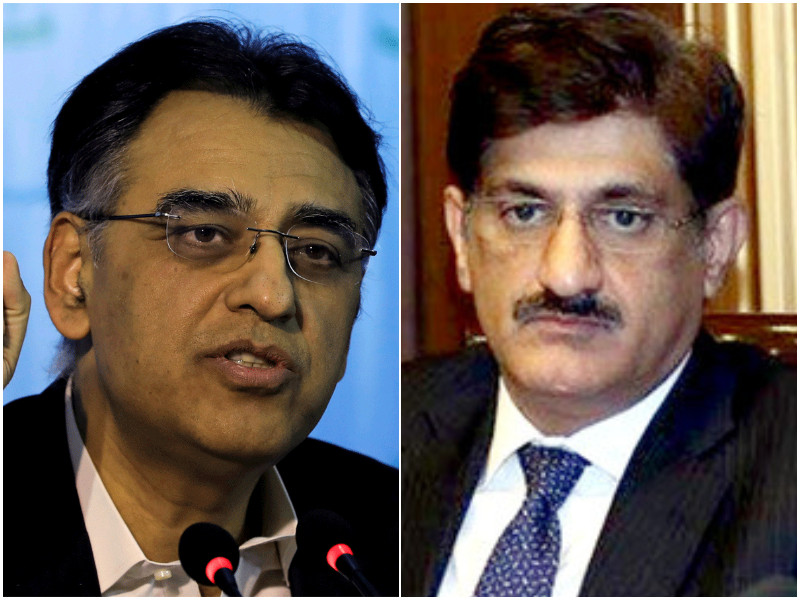 ---
KARACHI:
Slamming the "imposed regime" of Pakistan People's Party (PPP) in Sindh, Federal Minister for Planning and Development Asad Umar said on Saturday predicted the party's downfall in the province.
Addressing a ceremony in the provincial capital, Karachi, the federal minister said that due to its "poor performance", the PPP will lose power in Sindh after general elections in 2021. He said that the party will not be able to form a government in Karachi, let alone the province.
Coming down hard on the provincial ruling party, Umar said that people of Karachi have been deprived of a modern public transport system. "Those who criticise the PTI government for not bringing 'change' in the country should take a ride in Karachi's Green Line bus," he added.
He further said that work on Karachi Circular Railways (KCR) project will start soon in line with the directives of the Supreme Court (SC). It is worth mentioning here that on Tuesday, the government conditionally approved a financing structure for the KCR project. It approved Rs201 for the said the project amid warnings of the risky nature of the scheme and speculations of it not being financially viable.
Also read: Green Line BRT wins Karachi's heart
Moreover, the Public-Private Partnership Authority (PPPA) board approved the financing model under which around Rs90 billion would be given in subsidies to complete the project in partnership with the private sector.
During Saturday's ceremony, the federal minister also compared the incumbent government with that of former military ruler General (retd) Pervez Musharraf, saying that while was not in politics at the idea and had ideologically opposed the dictator, but "we did witness development work carried out in Karachi during his 8-year-long rule".
COMMENTS
Comments are moderated and generally will be posted if they are on-topic and not abusive.
For more information, please see our Comments FAQ