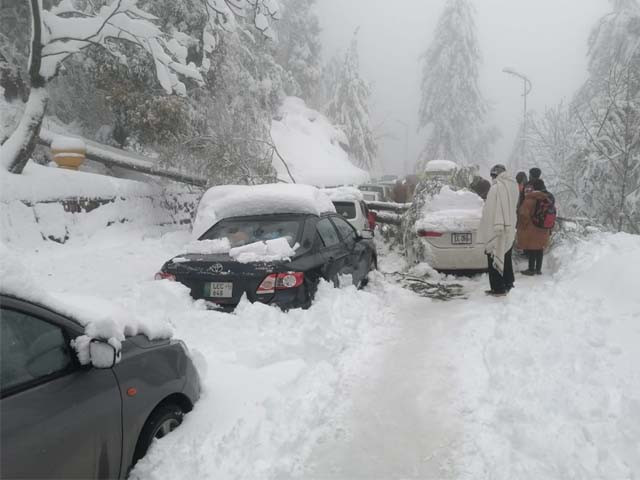 ---
RAWALPINDI:
Twenty out of twenty-nine snow-removing machinery and snowmobiles failed to respond promptly to the Murree incident that claimed 22 lives, the preliminary findings of the probe revealed on Friday.
The four-member committee formed to probe the causes of the Murree tragedy has recorded the statements of administrative and operational officers and staff, sources privy to the findings said.
The team also recorded the statements of the front-line personnel of Rescue 1122, who were supposed to be deployed at the site to deal with a crisis situation.
The probe, which is into its fifth day of inquiry, revealed that drivers and other staff were also found to be absent from their duty despite several warnings issued by the Met Office about a severe snowstorm through print and electronic media.
Besides, officials of the forest department officials failed to submit a satisfactory explanation to the committee for their lack of coordination.
The panel has now requested details of the staff and a list of their responsibilities.
Read More: PM Imran wants speedy inquiry into Murree tragedy
Regarding the influx of the deluge of tourists - considered to be one of the major causes of the event - the report discovered that at the time of the blizzard, the district administration turned around about 50,000 vehicles heading towards the popular tourist spot to stave off further casualties.
The influx could have potentially intensified the degree of causalities, the findings noted.
Sources said that an investigation report would be submitted to the Punjab Chief Minister on Monday next week and action would be taken against those responsible for finding the report.
The committee had earlier discovered that the relevant departments, including district administration and disaster management authorities, did not coordinate to formulate a joint plan of action to prevent a crisis following the severe weather warnings issued by the Met Office.
COMMENTS
Comments are moderated and generally will be posted if they are on-topic and not abusive.
For more information, please see our Comments FAQ