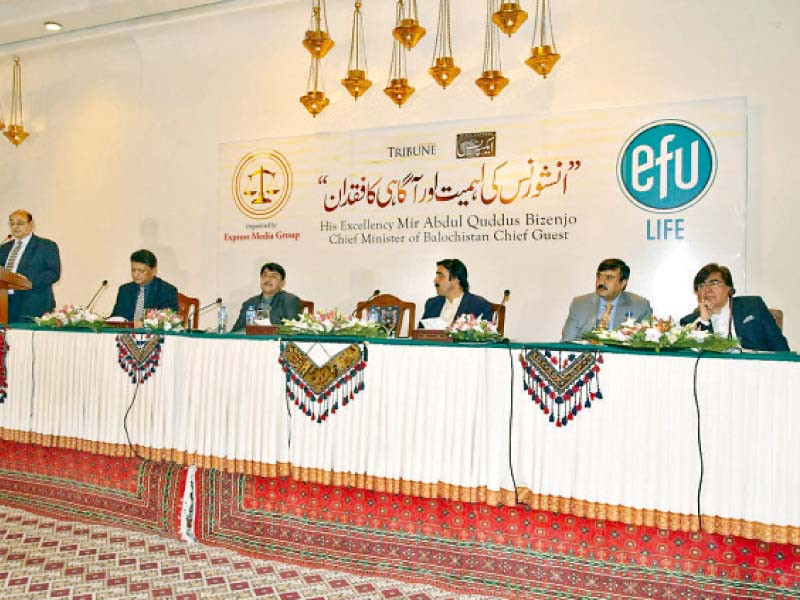 ---
QUETTA:
Every citizen of the country needs to get general and life insurance so that the future of their children and families is protected.
These views were expressed by Federal Insurance Ombudsman of Pakistan Dr Khawar Jameel, Senior Provincial Minister for Finance Noor Muhammad Dummar, Provincial Minister for Education Mir Naseebullah Murree, Assistant Sales Director of EFU Life Insurance Nas Shahjahan Khilji, Advisor to Federal Insurance Ombudsman Abdul Basit Khan, Director General of Federal Insurance Ombudsman Mubashir Naeem, Prosecutor General Balochistan Sajid Tareen Advocate while addressing a one-day seminar on the importance of insurance and lack of awareness organized by Express Media Group in collaboration with an insurance company at a local hotel in Quetta.
Dr Khawar Jameel said that a good economy is vital for the development and growth of Pakistan and the insurance sector is essential part of economy. He observed that to improve insurance coverage, awareness seminars are being organized across the country. He added that in the problematic situation of Coronavirus, efforts were made to achieve the targets as Rs378 billion annually goes to insurance companies which are paid to reinsurers.
He said that every citizen of Pakistan needs to get general and life insurance to ensure a worry-free future for their children and families.
Minister for Finance Noor Mohammad Dummar said that Balochistan is a backward and poor province, and its people are fighting for their economic betterment who do not know about insurance.
He maintained that the importance of insurance needs to be promoted in remote districts of the province so that people could understand its worth.
He assured that the Balochistan government would play its role in raising public awareness.
Balochistan Education Minister Mir Naseebullah Murree called the seminar really important, adding that government teachers would be insured in the near future.
Assistant Sales Director EFU Life Insurance Nas Shahjahan Khilji said a client app has been introduced by his company, adding that insurance creates ease in life and provides peace of mind
He shared that the Rs1.5 billion claims were paid in the pandemic linked to Covid-19 only. Khilji said that money had been paid to the families of those killed in road accidents too.
Adviser Federal Ombudsman Abdul Basit Khan said that Federal Ombudsman Insurance had started an insurance campaign in all provinces so that the insurance process can be further improved.
Director-General Federal Insurance Ombudsman Naeem Mubashir and others also addressed the seminar.
Speaking to the media, Prosecutor General Balochistan Sajid Tareen Advocate said that holding a seminar for the first time in the province on insurance is a positive development. He said that the people of Balochistan are in need of insurance to improve their quality of life.
Published in The Express Tribune, January 14th, 2022.
COMMENTS
Comments are moderated and generally will be posted if they are on-topic and not abusive.
For more information, please see our Comments FAQ