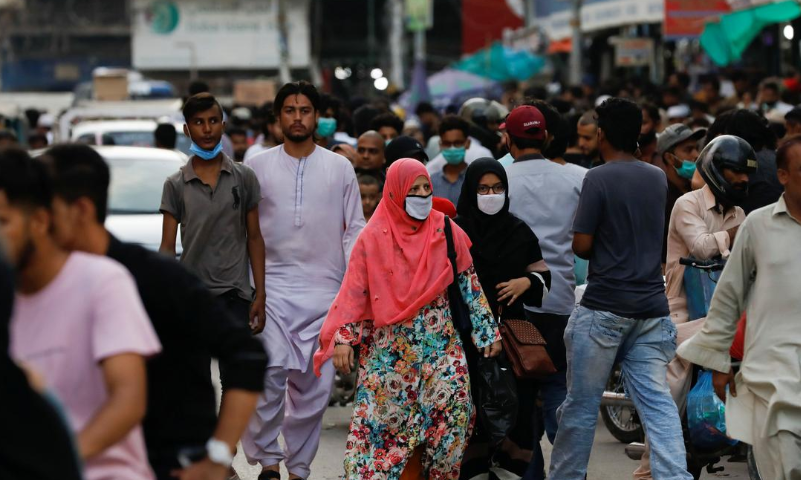 ---
PESHAWAR:
Provincial capital Peshawar has emerged as the main center of the Omicron variant in Khyber-Pakhtunkhwa (K-P) as out of a total of 36 cases, 29 have been reported from one township of Hayatabad in the district.
The district is also among the worst hit from Covid-19 with a four per cent positivity ratio.
Talking to The Express Tribune an official of the health department said that there were a total of 22 Omicron cases in the province but on Wednesday 14 new cases were reported pushing the total number up to 36.
"We have launched the contact tracing of the Omicron patients and emergency teams have been sent to the area for random sampling," he said.
It is worth mentioning here that Peshawar district is the fourth most affected district across the country from Covid-19 taking into account the positivity ratio. National Command and Operation Centre (NCOC) has identified its report 14 districts of in the country with highest positivity ratio.
From K-P province Abbottabad and Swat have also been identified as the high positivity districts. Faisalabad, Gujranwala, Gujrat, Lahore, Multan, Rawalpindi, Islamabad, Karachi, Haiderabad, Mirpur Khas and Muzafarbaad are also included in the high positivity 14-districts list.
Read Single-day Covid tally surges past 2,000
"Karachi has been on stop of the positivity chart with 15.1 per cent where 780 new cases were reported on Monday out of 5,168 tests," said the official, adding that Peshawar and Islamabad have been on the top of cities where the test to positivity ratio is higher. On Monday around 1,000 tests were conducted in Peshawar in which 32 cases were detected.
On Monday in Islamabad around 3,919 tests were conducted in which 116 came back positive.
In Mirpur the positivity ratio is 7.7 per cent, Lahore 5.3 per cent, Haiderabad 3.1 per cent and Islamabad 3 per cent (on Monday).
On the other hand, three people have succumbed to the infection in the province as 64 new Covid cases were detected. The total death toll stands at 5,948 in K-P so far.
A total 37 fresh Covid cases were reported from Peshawar alone on Wednesday.
Vaccination drive across the K-P is still slow with Chitral district on the top with only 40 per cent vaccination despite the fact that booster shot has also been launched in the province.
Published in The Express Tribune, January 13th, 2022.
COMMENTS
Comments are moderated and generally will be posted if they are on-topic and not abusive.
For more information, please see our Comments FAQ