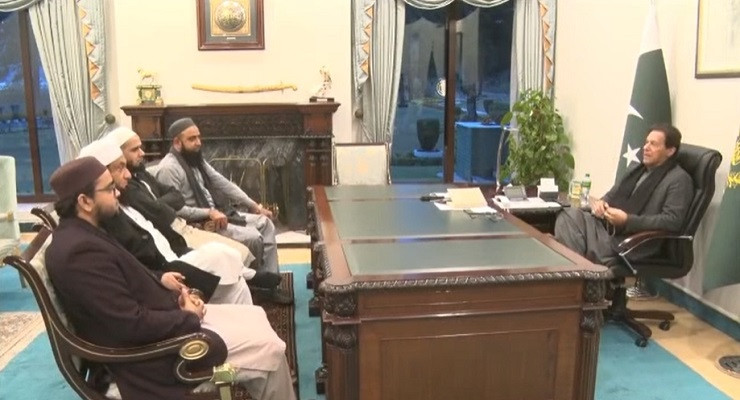 ---
Renowned scholar Maulana Tariq Jameel called on Prime Minister Imran Khan on Thursday and discussed the proposed role of the National Rehmatulil Alameen Authority (NRA).
According to an official statement, during the meeting, the premier discussed the NRA for the character-building of the youth in light of the teachings of the Seeratun Nabvi (Peace be Upon Him).
It further said that the prime minister reiterated on the occasion that "we, as a nation, can only progress by following the teachings of the Prophet (PBUH).
Expressing his views, Maulana Tariq Jameel praised the premier for the character-building of the youth in light of the teachings of the Prophet (Peace be Upon Him), alongside his efforts to turn Pakistan into a welfare state on the model of the Riyasat-e-Madina (the State of Madina).
Also read: PM appoints Dr Ijaz Akram as Rehmatulil Aalmeen Authority chairman
Last month, the prime minister appointed Dr Ijaz Akram as chairman of NRA, aimed at countering narratives against Islam and the Holy Prophet (PBUH).
To seek advice and guidance of esteemed international and national scholars on Seeratun Nabwi (SAWW), the authority has ten members advisory council comprising Hamza Yusuf, Dr Sayyed Hussain Nasr, Muhammad Faghfoorey, Dr Joseph Lumbard, Waleed al Ansari, Dr Anees Ahmed, Dr Attaur Rehman, Barrister Nusret Majid, Dr Basit Koshul and Dr Sahibzada Sajid Rehman.
As a patron-in-chief of this noble initiative, PM Imran is directly supervising the authority with three meetings of the authority a week. He is making all-out efforts to highlight tolerance, ethical behaviour, rule of law, respect for minorities, kind and respectful attitude towards women and character building in line with the Seerat of Prophet Muhammad (PBUH).
The efforts and keen engagement of the prime minister with the support of an able and accomplished team, which is capable of reaching out and influencing hundreds of millions of young and old people alike at a global level, are set to generate desired results.
COMMENTS
Comments are moderated and generally will be posted if they are on-topic and not abusive.
For more information, please see our Comments FAQ