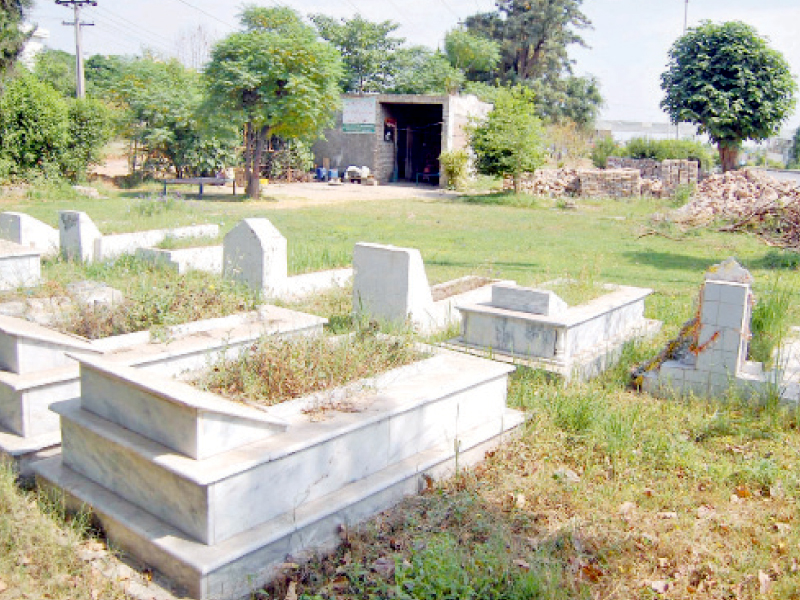 ---
RAWALPIND:
While the rising inflation has increased the cost of living drastically, it has also caused an upsurge in the cost of burial in the twin cities which often leaves already sorrowing citizens dumbfounded.
Even when the going rate for a grave is not an issue, which The Express Tribune learned is between Rs 25,000 to 50,000, finding a burial place in the federal capital or its twin Rawalpindi is itself a hassle.
Some citizens, like Shaukat Bhatti, went as far as to allege that graveyards were not short on space but rather it was influential people reserving graves that had led to a supposed burial space shortage.
Bahlol Asghar, a resident of Rawalpindi is one of many who put stock in the allegations put forth by Bhatti, as he told The Express Tribune that it was an open secret that grave sites were sold to the highest payer in every cemetery of the cantonment city.
"Every family goes through this ordeal but no one takes notice," he said. Former Mayor of Municipal Corporation Rawalpindi, Sardar Naseem Khan, when inquired about the plight of Rawalpindi's citizens, stated that a new cemetery was being developed at Rakh Dhamial. "The problem of expensive graves in local cemeteries cannot be solved until the launch of new graveyards," he said.
Read New graveyard in the offing for capital
While the wait for a new graveyard continues, Muhammad Zakir, sheds light on another ordeal that citizens of Rawalpindi go through. "My grandfather's grave was in Shah Ki Talian graveyard but two years ago when I went to visit - a new grave had replaced it. A new nameplate had been installed and I have no idea what they did to my grandfather's remains," narrated Zakir.
Junaid Qazi, another resident of Rawalpindi, informed The Express Tribune about what happens when an old grave is replaced. "The bones and other remains are taken out and buried in a side corner of the cemetery and then this new grave is sold for a handsome amount," Qazi said matter-of-factly.
Burial woes in the capital While Islamabad's residents did not report any instances like that of Zakirs, Ajmal Qureshi, a lawyer based in Islamabad, complained to The Express Tribune about the high cost of burial in the city.
The federal capital's H-8 graveyard which is the first preference of many is the final resting place for many of Pakistan's notable political and bureaucratic figures like the late Dr Abdul Qadeer Khan, who passed away earlier during the year. "I buried my brother in the H-8 cemetry two months ago and I initially paid Rs 12,000 for the grave but later the diggers badgered me for more money," he lamented. Qureshi, concurring with what Bhatti said about Rawalpindi, alleged that the influential people have it easy but ordinary citizens like him face a lot of problems burying their loved ones in a cemetery like H-8.
Another resident, Sohail Zaman, similarly complained that there was a fluctuating rate for ordinary citizens. "They can charge either Rs 30,000 or Rs 40,000 for burial in Islamabad and no one can question it. Where should the poor go?" he asked.
Capital Development Authority Spokesperson Syed Asif Raza Shah, when inquired about the exorbitant prices, said that no graves were sold in government cemeteries and that grave excavation, regular brick prices, and fees were listed on prominent boards. "If anyone has any grievance, he should lodge a direct complaint, and we will solve it," Shah informed The Express Tribune.
COMMENTS
Comments are moderated and generally will be posted if they are on-topic and not abusive.
For more information, please see our Comments FAQ