 ---
Earlier this week, someone recorded a video of actor Alizeh Shah smoking in a car and shared it online. As expected, it blew up in a couple of hours on social media, garnering immense hate.
From the looks of it; the video was shot during a traffic light and the actor was spotted in the passenger seat, minding her own business. But viewers and haters were quick to pass judgements on Shah's morals and failed to comment on the watchdog that had made this video without taking her consent while conveniently invading her privacy.
Now, without responding to the controversy herself, Shah took to her Instagram Stories and shared a video message from the Head Of FIA Cyber Crime, Sindh, Imran Riaz, who is also an Ambassador Against Women Harassment and Child Pornography in Cyber Space.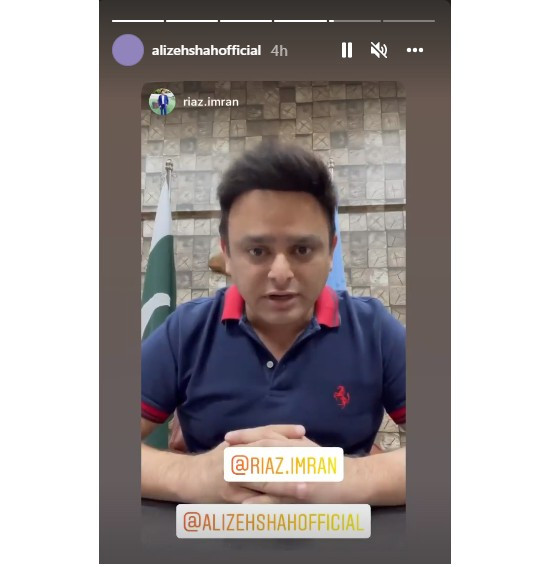 The video sees Riaz informing netizens about the consequences of recording and filming anyone without their consent to emphasise on the crime that has been committed in Shah's case. He states: "Taking anyone's picture or recording their video without consent, uploading, sharing, tweeting, re-tweeting it on any social media platform, like it has happened in Alizeh Shah's case, comes under the Prevention of Electronic Crimes Act, 2016. It is a crime punishable by three years in prison or Rs1million fine or both. So please be careful."
Riaz did not specify whether Shah had reported the video to the cybercrime wing herself or FIA took notice of the viral attachment but it is safe to say that none of her haters can share the illegal clip without worrying about ending up in prison anymore.
At the time the video surfaced, many hurled abuses at Shah and called her a "hypocrite" for apparently adopting the "European culture". But it was not the first time, and neither will it be the last, that a 21-year-old public figure receives flak for her personal life choices, none of which should be anybody's business.
But reports have claimed that Shah is seeking legal action against those who filmed her and uploaded the video, and we are here for it! The actor is known for her work in popular dramas like Ehd-e-Wafa, Mera Dil Mera Dushman and Ishq Tamasha.
Have something to add to the story? Share it in the comments below.
COMMENTS
Comments are moderated and generally will be posted if they are on-topic and not abusive.
For more information, please see our Comments FAQ