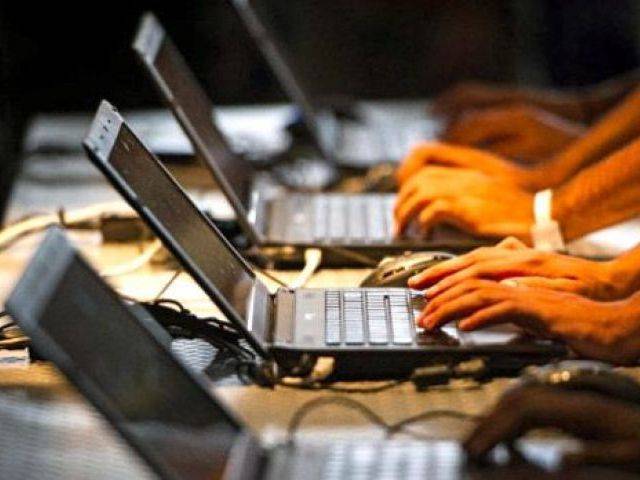 ---
ISLAMABAD:
The penetration of broadband services in the country has reached 49.94% with 109.61 million subscribers, according to a latest update released by the Pakistan Telecommunication Authority (PTA).
In terms of breakup of the overall subscribers by technology, the major part comprises mobile broadband users whose number stands at 106.67 million.
Similarly, subscribers who use digital subscriber line (DSL) come to around 1.48 million, fiber to the home (FTTH) 0.56 million, evolution-data optimised (EvDO) 0.26 million, 3G/4G LTE (fixed) 0.59 million, hybrid fiber coaxial (HFC) 19,000 and WiMax nine.
Pakistan's teledensity has also increased to 86.79% -- of which 85.65% is covered by cellular services while 1.14% is covered jointly by fixed local loop (FLL) and wireless local loop (WLL).
Read: PM Imran inaugurates Lahore Technopolis
As per the data, there are over 187.99 million cellular subscribers and the market continues to be dominated by Jazz with 38.35% (72.1 million) of the total subscriber base, followed by Telenor Pakistan with 26.36% (49.5 million), Zong with 22.34% (41.9 million), Ufone with 12.09% (22.7 million) and SCO with 0.86% (1.6 million).
It has also been observed that the growing data demand from users is leading to faster adoption of 4G compared to its predecessor 3G.
As per the PTA figures, the number of 4G users have crossed the 87.6 million mark.
In terms of 4G market share, Jazz leads with 34.5 million, Zong comes second with 25.9 million; followed by Telenor Pakistan with 19.4 million; Ufone 6.7 million; and SCO one million.
During November 2021, 15,311 complaints were registered by subscribers across the country
Due to large difference between the number of subscribers and cellular operators, the PTA in its latest annual report used an appropriate approach of dividing complaints against each operator per 1,000 customers.
As such, Telenor had 0.10 complaints per 1000 customers, Jazz 0.08, Zong 0.06 and Ufone 0.04.
Read More: Is Netflix better than Amazon Prime?
Earlier, SpaceX had expressed its eagerness to launch Starlink's satellite broadband internet in Pakistan.
A delegation of US-based global satellite broadband provider recently called on Minister of IT and Telecom Syed Aminul Haque to discuss the policy and operation model.
The group comprised SpaceX Director Middle East and Asia Ryan Goodnight and Head of Global Site Acquisition Ben Macwilliam. On the occasion, Haque mentioned that 40,000 schools and small and medium enterprises presented a unique opportunity to the company. He said the Starlink internet could also be expanded to the un-served and underserved areas of Pakistan.
Starlink was launched by billionaire entrepreneur Elon Musk that aims to sell internet connections to almost anyone on the planet by way of a growing network of private satellites orbiting overhead. After years of development within SpaceX, Musk revealed that Starlink had shipped more than 100,000 satellite internet terminals to customers in 14 countries.
COMMENTS
Comments are moderated and generally will be posted if they are on-topic and not abusive.
For more information, please see our Comments FAQ