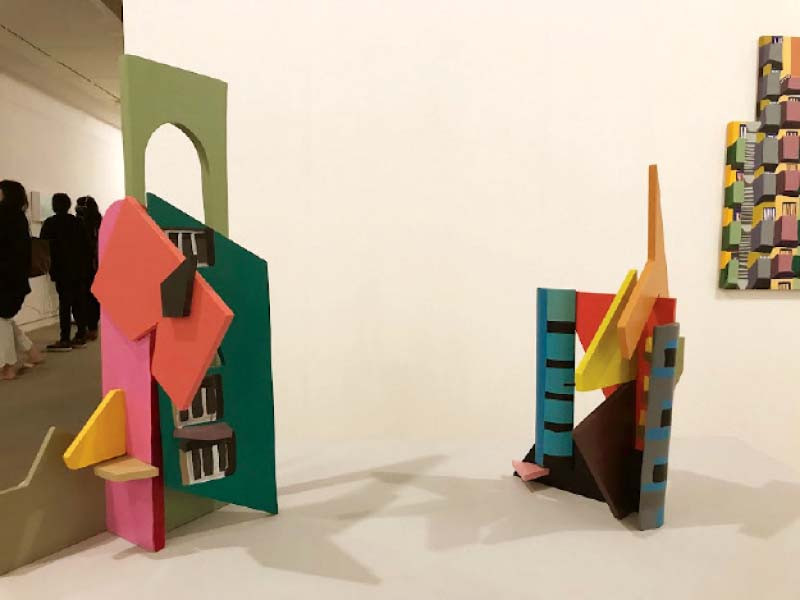 ---
KARACHI:
The Indus Valley School of Art and Architecture opened its door to showcase the talent and labours of its graduating batch of 2021 on Monday.
Replete with artists and aesthetes, the timeless Nusserwanjee Building looked like an art museum with the final projects of students from all five departments - fine arts, architecture, interior design, communication design and textile design - on display.
The exhibition carried a variety in the mediums the artists chose to work on, such as ceramics, textile, designs, photography and architecture. But all made a point - reflecting life-changing moments in the lives of the artists'.
While the themes ranged from socio-political commentary to sustainable fashion, fine art students failed to escape the rapidly urbanising world around them.
The price we pay for progress
Aliza Ghaffar's deeply personal Fine Art thesis, now on display at the school, is an attempt at linking urbanisation and the corresponding increase in the population of people living in Karachi to the disappearance of skies. "I live in Gulistan-e-Johar, and this is what I see from my balcony," she points to a partially cut canvas with congested little balconies painted on it. "This is all I can see, I cannot see the sky because there are so many buildings, so I've eliminated the sky from my painting because all I see from my window are skyscrapers."
Three feet from Aliza's saturated paintings stand Syed Ahmed Uddin's audio installations. He comments on the unauthorised, unplanned and growing real estate development in and around the neighbourhood of Karachi's North Nazimabad.
His socio-political commentary falls under the umbrella of urbanisation because of the way the city is planned. Party flags at every new construction site; fresh tarmacadam roads before each election - in Karachi, everything, even urbanisation is happening for political gain.
"This is the future of Karachi's sea," said Mashaal Amjad pointing towards her intricately-made sketch of around 30 boats in one single frame. "My work is about unsustainable fishing practices and the irreparable loss of marine life these poor fishing techniques have caused. These drawings explore an imagination of how the marine animals will adapt to the new changes caused by humans."
Mashaal's meticulous sketches of marine life as vessels that have mutated are awe-inspiring and leave the viewers rather frightened for the future of the city's sea.
Afiya Asif's thesis called 'Reborn' was yet another imitation of how urban development continues to magnify the risk of environmental hazards. Ornamenting a room entirely with tree barks, stems and roots, she lamented how Karachi continues to 'develop' and in turn, continues to destroy thousands of trees every year. Afiya's work revolves around the creation of an alternate reality with plants that had lost their original form.
In the realm of the senses
While most of the Fine Art thesis spoke volumes about the menace of rapid urbanisation, some installations transported viewers to a sensory realm.
Bilal Jabbar's stimulating installation revolved around the hidden poetry of everyday objects. He used silverware to make the statement, connecting and arranging them in ways that go beyond their mundane function.
The emotive yet in-vogue quality of Aswad Anees' work is what made his installation one of the most popular ones.
Explaining the thought process behind his interlocked LED-lit threads, he said, "I moved to Karachi from Larkana and the thing that had the most impact on me was the pace of this city."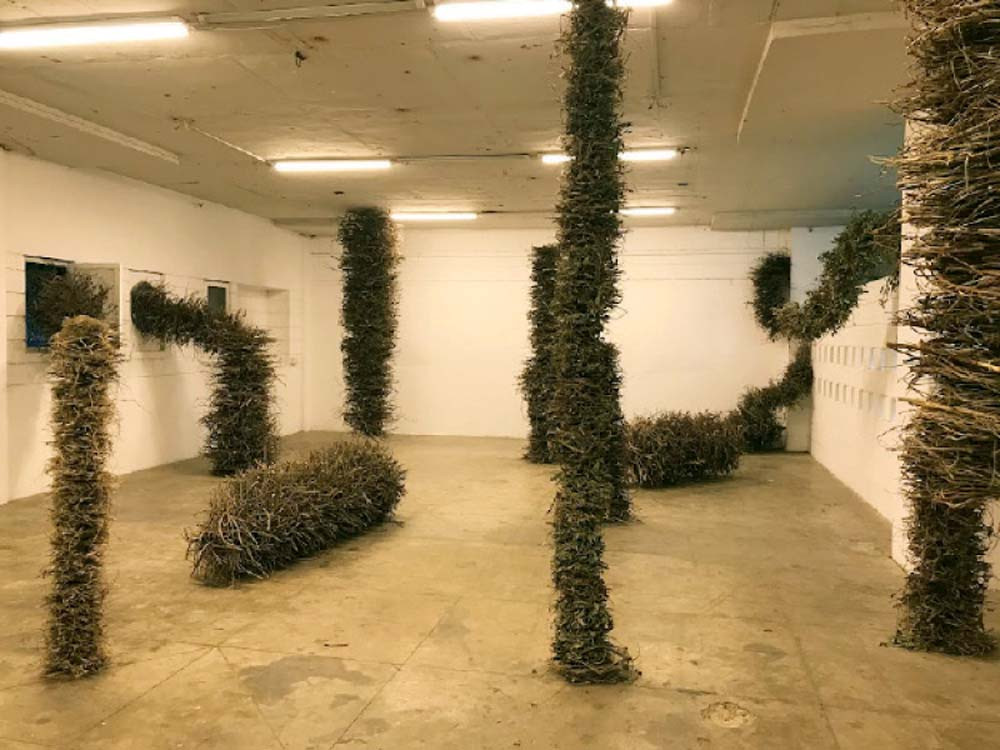 His lustrous work also became the backdrop for photos the onlookers took for their social media.
Ceramic artist Aisar Abbas' display was about hybrid toys. In his words, his childhood inspired him to come up with this idea for his thesis of 'Unedited Feelings'.
"During my childhood, I had a medical condition because of which I was isolated. I had a lot of toys to play with, and that basically led me to see toys as more than objects," he said. The standout piece in his display is a ceramic sculpture of a baby with a varifocal camera as its head.
All in all, the body of work produced by the students possessed sincere hints of the human touch, something that is often absent from the commercial design of our country.
And while some may argue that the visual recreations of memory are best designed in contemporary art studios, it can be reasoned that perhaps the old stone building with high ceilings and lingering visions of talent is what makes for an ideal campus for an art school.
The theses display for the graduating class ends on December 24th.
Published in The Express Tribune, December 24th, 2021.
COMMENTS
Comments are moderated and generally will be posted if they are on-topic and not abusive.
For more information, please see our Comments FAQ