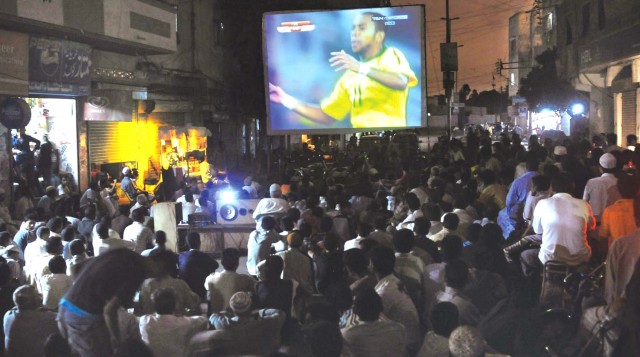 ---
The alleys of Lyari ring no more with the sounds of gunshots - for the moment at least. This achievement, a big one for one of Karachi's most violence-hit areas, has not come about through the efforts of law-enforcers, or of gangs. It is has come about for the love of the beautiful game - football.

With the start of the Football World Cup, there has been no untoward incident for the past two weeks because gangsters know that they cannot operate in the football season, says Jan Alam of Lal Buksh Memorial Football Club. "We are very excited to see our favourite teams in the world cup," said Jan Alam, "It was good that the gangs settled down and the killings stopped otherwise the football-crazy fans in Lyari would have taught them a lesson."

Others were just glad that the killings stopped otherwise the occasion of the Football World Cup would have been ruined. "Thank God the gang war is over for now or it would not have been possible to follow the football matches on the streets," said Shakeel Baloch.

Football enthusiasts gladly arranged projector screens in the stadiums.

Baloch was nevertheless apprehensive about the newly-found stability in Lyari, which, he believes, will be hard to sustain

The gang factor

Lyari is dominated by two groups, one of which is headed by Ghaffar Zikri, which has been accused of pursuing criminal activities. They were driven out of Lyari in the recent crackdown. A majority of residents support Zikri's rivals, the Uzair Baloch group that follows Rehman Dakait's legacy of the peace committee.

Uzair Baloch claims that the police were unable to establish control in the area and it was through his men that they succeeded in bringing peace. "The media portrays these leaders of gangs as terrorists but the locals would not agree."

People hold us in high regard because it was through our efforts that Lyari became peaceful, he boasted, adding that nobody could enter Lyari at night until a couple of weeks ago, but now anyone from the media can walk through these streets and they will be safe.

The police factor

Saeed Ahmad, a rickshaw driver and a resident of Lyari, praised the police for maintaining peace in Lyari. "When the situation was tense here, I drove my rickshaw in Lasbela as people did not come out during the gang wars," he explained.

He blamed elected representatives for ruining peace in Lyari as gang leaders also belong to political parties. He bitterly added that they roam around the city with national flags on their cars but never bothered to visit Lyari.

Whatever the reason may be, residents are happy that there is peace in Lyari. "We have heaved a sigh of relief after the government took action in Lyari," said Shakoor Ahmad, a vendor in the area. "We often saw killings in front of our eyes and our younger generation has become immune to them."

Ahmad said that some people believed that the Lyari unrest took place under the shadow of the people in power, those who belonged to the ruling party. He avoided taking names even upon insistence.

PPP dwindling?

Residents of Lyari are disappointed about growing differences in the local Pakistan People's Party (PPP) leadership and believe that the party may soon lose strength in the area.

This was evident on June 21 when party workers in Lyari failed to share the enthusiasm of their leaders as PPP officials in the entire country united to celebrate Benazir's 57th birth anniversary. A few hoardings and posters of their deceased leader could be seen but they were overshadowed by those of Lyari's infamous Rehman Dakait.

"Sooner or later more gangs will emerge from Lyari because people are disappointed with the local PPP leadership," said a resident Dadan, who claimed to be apolitical, "A day will come when another political party would claim in their speeches that 'Lyari was the hub of the PPP but now it is the fort of our party'."

Dadan cackled when asked who he thought would succeed PPP, but hinted by saying, "Who else? Those who say Karachi is theirs."

However, not all residents shared the same sentiments. These gangs never existed when PPP was intact, revealed another resident, adding that groupings within the local party leaders have led to this mess.

The PPP had lost its seat in Lyari town to a local alliance in the local bodies' elections, and then a few PPP stalwarts went against their leadership, he narrated, adding that they could not stay in Lyari for too long after the assassination of Benazir Bhutto. Pressure mounted on them to withdraw because Lyari was very sensitive about the Bhuttos.

A group of armed men could be seen patrolling on motorcycles in Lyari. They are watchmen for the Aman (peace) committee. "These armed men patrol the area to check whether or not the situation is under control," said Noor Buksh, refusing to name which group they belonged to.

"We have sacrificed enough lives for the Bhuttos; Lyari suffered the most in gang wars," exclaimed an enthusiastic football fan Imtiaz Baloch, "It is time to say enough is enough and we will not let this place turn into a battlefield anymore."

Published in The Express Tribune, June 24th, 2010.
COMMENTS (6)
Comments are moderated and generally will be posted if they are on-topic and not abusive.
For more information, please see our Comments FAQ