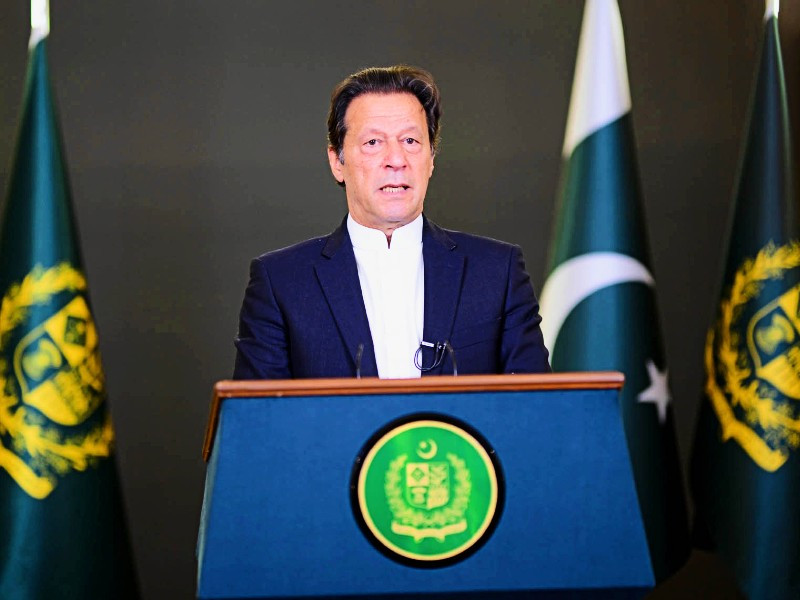 ---
ISLAMABAD:
Prime Minister Imran Khan on Thursday offered Pakistan's good offices to resolve differences between the United States and China in order to avert what he termed the potentially new "Cold War" as he maintained that Pakistan would not side with any bloc.
His statements, made at the Islamabad conclave themed 'A Peaceful and Prosperous South Asia', came a day after Pakistan decided to skip the summit on democracy being convened by President Joe Biden.
The Foreign Office, while politely turning down the US invitation, had cited no specific reason for staying away from the summit.
However, observers believe that besides strained ties between the two countries, the exclusion of China from the summit might have played a part in Pakistan's decision.
The move, observes believe, may have serious implications for Pakistan as the US will not like Islamabad's apparent snub.
Pakistan though tries to portray that it does not want to enter into bloc politics but on the issue of democracy summit, it seems to have sided with China and Russia.
Mindful of the potential conflict between China and the US, the prime minister said Pakistan wanted to bring China and the US closer in the hope to stave off not just bloc politics but a "new Cold War".
The prime minister cautioned that the scenario appeared to be heading towards a new Cold War as blocs are being formed and stressed that Pakistan would not join any bloc.
"Pakistan doesn't want to get trapped in this new Cold War as happened in the past," he said, referring to Pakistan's decision to side with the US in its rivalry with the erstwhile Soviet Union.
That policy, Imran said cost Pakistan dearly.
Against this backdrop, the premier insisted that Pakistan desired to bring China and the US together. He recalled that Pakistan's positive role helped prevent a possible conflict between Saudi Arabia and Iran. "Both countries appreciated our role," he added.
Read Pakistan declines US democracy summit invitation
He recalled that Pakistan had served as the channel of communication to arrange a secret visit from Islamabad to Beijing in 1971 of then-U.S. Secretary of State Henry Kissinger, which re-established Sino-U.S. ties after more than two decades of diplomatic silence.
"We want to bring people together…Pakistan had played a role in opening up China to America back in the 1970s," he said.
"There is always competition between states on trade. That is not an issue. But this trade fight must not lead to a similar rivalry as we saw in the case of the US and Soviet Union," he further said.
On the ongoing situation in Afghanistan, the prime minister noted that the worst and nightmare scenario had been averted. He said after the exit of the US, Pakistan feared a protracted civil war in Afghanistan.
"Fortunately that did not happen," he said adding the real challenge was to avert the humanitarian crises.
He said the US needed to realise that freezing Afghan assets would only add to the problems of the people of Afghanistan.
'Irrespective of you like the Afghan Taliban or not, it is the people of Afghanistan that would suffer if their assets are not unfrozen and they are not provided the economic assistance," he said.
Commenting on India, the Prime Minister said in the presence of RSS ideology rapprochement was not possible between the two countries.
Read more PM Imran to launch Micro Health Insurance programme for K-P
"The RSS ideology is not only bad for Pakistan or Kashmiris but it is bad for India itself," he argued. He said history showed when any country tried to marginalise any segment of society it only led to radicalisation.
"We hope and pray that India one day has a government with whom Pakistan can sit on the negotiating table to resolve all disputes," he said.
Kashmir dispute, he stressed, could only be resolved through dialogue.
"If India thinks it can suppress people of Kashmir by force it is mistaken. If people's movements could be subdued by the use force the US would have succeeded in Afghanistan."
He said Pakistan and India faced so many common challenges that needed a joint strategy but that was possible only when the two sides would find a peaceful solution to the Kashmir issue.
"For example, we cannot tackle the problem of pollution in Lahore without cooperation from India," he said
COMMENTS (2)
Comments are moderated and generally will be posted if they are on-topic and not abusive.
For more information, please see our Comments FAQ