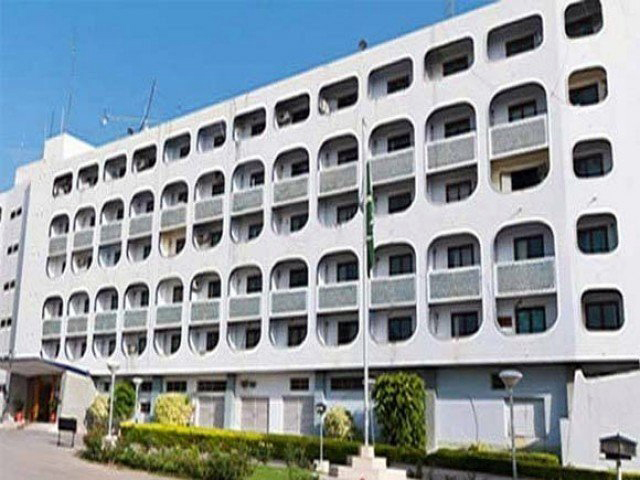 ---
ISLAMABAD:
The Foreign Office on Sunday rejected reports of financial difficulties being faced by Pakistani missions abroad due to a shortage of funds, saying that all diplomatic missions were being provided "requisite resources".
Official sources, however, acknowledged the existence of official communications between the foreign office and its missions abroad on the issue of release of funds, though, they insisted that these were "simple routine and procedural matters".
"To say the government of Pakistan has no funds or shortage of funds for its missions abroad is simply absurd," a senior foreign office official told The Express Tribune while requesting anonymity.
Read more: FO says @PakinSerbia 'hacked' after it slams PM
The issue of reported shortage of funds came to the surface after Pakistani embassy in Serbia, using its official Twitter handle, flagged the problem.
The official Twitter handle of Pakistan's embassy in Serbia on Friday criticised the PTI-led government over record-breaking inflation and alleged non-payment of salaries for the past three months.
The tweet by the verified account of the embassy asked Prime Minister Imran Khan as to how long did he expect the government officials to remain silent in the face of "hyperinflation". "[How long do you expect government officials to] keep working for you without being paid for [the] past 3 months & our children been forced out of school due to non-payment of fees," it added. Is this Naya (new) Pakistan?"
However, the Foreign Office spokesperson, in a tweet, claimed that Twitter, Facebook and Instagram accounts of the country's mission in Belgrade were "hacked".
The Serbian embassy, in a separate statement, also claimed that its social media accounts were hacked and distanced itself from the critical tweets.
The embassy said that the accounts were hacked by someone using the desktop in Karachi. Later, the accounts were retrieved and controversial tweets were deleted.
But before the controversy died, a purported letter written by Pakistan High Commission in Dhaka surfaced on social media, suggesting the mission was facing shortage of funds to pay school fee of staff's children.
Also read: Ill-timed poetry critical of PM Imran raises eyebrows in Dushanbe
The emergence of the letter raised questions if the Serbian account was indeed hacked or there was some cover-up.
When approached, a foreign office official rubbished the claims of a shortage of funds while playing down the letter written by some missions seeking the release of funds.
"These are absolutely routine procedural matters. I can show you hundreds of such communications taking place every day between the foreign office and its missions abroad," he explained. "There was nothing new in it. The issue is being blown out of proportion."
The official said like every government department all diplomatic missions were allocated budgets as per their requirements. "Budgets are allocated against different heads and at times missions' expenses exceed against certain heads and hence they seek more allocations," the official said, adding school fee head was one of the major allocations at missions abroad.
"But all these communications are normal and routine affairs as we see in other government departments," the official claimed. The official made it clear such communications did not mean the government of Pakistan had no funds to run the missions abroad.
Meanwhile, in response to media queries, the spokesperson termed as entirely "baseless, irresponsible and malafide" the social media posts and related news reports in sections of the media alluding to financial difficulties faced by some Pakistan missions abroad.
"This deliberate disinformation attempt is outrightly rejected," Asim Iftikhar said in a statement.
"All Pakistan missions continue to be provided the requisite resources for effective functioning in accordance with relevant financial and budgetary rules and regulations," he added.
COMMENTS
Comments are moderated and generally will be posted if they are on-topic and not abusive.
For more information, please see our Comments FAQ