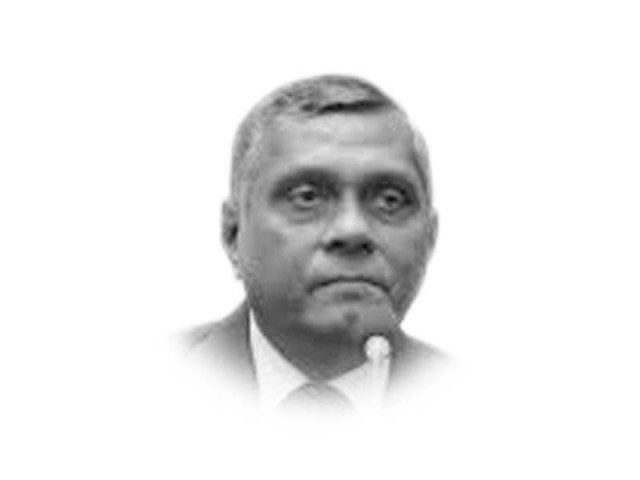 ---
According to a recent United Nations Development Program (UNDP) report, "human security consists of seven components and dimensions: economics, food, health, environmental, personal, community and political." A non-traditional mode of security, human security focuses on issues that directly threaten human survival through unavailability of clean and safe drinking water, hunger, diseases, drought, global warming, climate change and lack of proper health, transport and educational facilities.
The crumbling human security in Pakistan is a reality because around a third of the country's population is living below the poverty line. The rising inflation tends to threaten the livelihood of much of the population. Lack of focus on human security and underdevelopment augment the socio-economic predicament of vulnerable segments of society. Irresponsible and indifferent approach towards dealing with human security issues in statecraft tends to widen the rich-poor gap leading to growing frustration particularly in the younger strata of society. Late Dr Mahbubul Haq, Pakistan's leading economist and pioneer in the field of human development, argued that without ameliorating the socio-economic conditions of the people, the country cannot feel secure. Security should not be dealt with in a parochial and traditional manner but should consider issues that threaten the livelihood of most people.
The prevailing ground realities of Pakistan's economy are such that they expose the country's human security predicament and endanger the country's safety network to protect vulnerable segments of society. When the bulk of the population lacks access to clean drinking water, housing, quality education, public transport, employment, affordable and efficient justice system — human security is an obvious casualty. If Pakistan's total public debt stands at Rs50 trillion and the bulk of annual earning from taxes could only cater to debt servicing and defence expenditures, then the outcome will be a surge in the prices of food, medicines, petroleum, gas, electricity, etc, thereby augmenting human insecurity.
According to UNDP, Pakistan ranked 154 out of 189 countries on the human development index in the year 2020. A country blessed with the world's largest canal system, fertile agricultural land, tallest peaks, vast deserts, coastline stretching hundreds of kilometres and a population of 220 million is unable to utilise its enormous human resource for human and social development. This means there is a dearth of capable, hardworking, honest and visionary leadership which is responsible for the downturn of the country in all areas of human security.
The dwindling human security paradigm of Pakistan reflects a dangerous situation and needs to be analysed from three angles.
First, the deteriorating quality of life of the overwhelming majority in the country manifested in their diminishing purchasing power; lack of access to clean drinking water, health, education and transport facilities; absence of affordable and efficient justice system; inability to own a housing unit; and growing employment. When the quality of life of people drastically falls, the outcome is predictable in terms of a surge in crimes, frustration, anger, antagonism of youth and growing incidents of violence. Countries having a high human security index and good quality of life cannot fail in governance, rule of law and justice system. Pakistan's predicament is its failure to effectively deal with issues that augment poverty, social backwardness, illiteracy and bad governance, and its inability to make use of available human resources to uplift people socio-economically. During the 2018 election campaign, PTI chairman Imran Khan, now the Prime Minister of Pakistan, repeatedly mentioned the 20 million out-of-school children. Over the last three years, this number has reached 25 million, but the government has failed to fulfil its responsibility of providing education to a large number of children begging on roads or doing odd jobs as child labourers. Besides, millions of school-going children are undernourished and unhealthy. How can then one expect the future generations of Pakistan to be normal and productive?
Second, human security is not only the domain of the state, but society also needs to play its role. Unfortunately, the affluent class of Pakistan is least mindful of fulfilling its duty in terms of poverty alleviation and improving the quality of life of most of the people who lack access to the necessities of life. Unfortunately, those in power keep reminding people that the prices of petroleum products and many food items are lower in Pakistan as compared to India, Bangladesh and other countries of the region. What they do not mention, for instance, is that the government spending in the social sector in these countries is much higher than in Pakistan. According to PTI government representatives, including federal ministers, the rising sale of automobiles and bustling shopping malls and restaurants reflect affluence in society and negate any financial crisis. However, one can only feel sorry for them because they are totally oblivious of the woes of a big majority of the population which remains from hand to mouth. Escaping from ground realities and giving a rosy picture of the economy further deepens the predicament of human security and augments economic crisis leading to chaos, disorder and violence. When the Prime Minister says that there are mafias that cause artificial economic crisis — particularly by creating shortages of wheat, sugar, medicines, petroleum, and other essential items — it speaks of the government failure to control things. Merely holding mafias responsible for various issues only exposes the fault-lines within the sitting government.
Third, the absence of functional state institutions along with honest and capable people to understand the dynamics of human security is a bitter reality in Pakistan. All over the world, particularly in developing countries, there is a growing realisation towards dealing with deteriorating quality of life of people, falling purchasing power of lower and middle classes, and mushrooming of environmental threats from failure to cope with climate change and global warming. However, in Pakistan, there is a lack of seriousness and professionalism in acting before time. Growing human insecurity will eventually destabilise the prospects of prosperity in the country. Despite having authority and power, those at the helm of affairs are least interested in alleviating the plight of the majority of the population. An overwhelming majority of the country's population is sinking in the quagmire of price hike, poverty and unemployment. The outcome of neglecting human security is unlikely not to transform the state into a failing and eventually a failed state.
Published in The Express Tribune, December 5th, 2021.
Like Opinion & Editorial on Facebook, follow @ETOpEd on Twitter to receive all updates on all our daily pieces.
COMMENTS (1)
Comments are moderated and generally will be posted if they are on-topic and not abusive.
For more information, please see our Comments FAQ