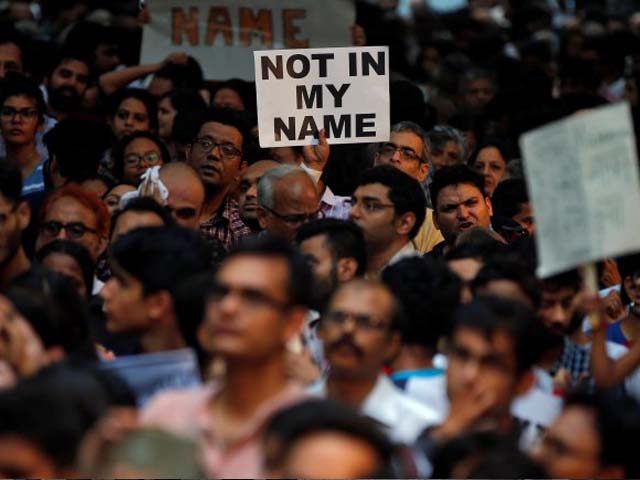 ---
Blasphemy laws have often dictated violence in Pakistan. The simmering intolerance has come to a boil and resulted in the lynching of Priyantha Kumara, a Sri Lankan national who was employed as an export manager in a local company in Sialkot.
The victim was accused of tearing a piece of paper with "Durood Sharif" printed on it. According to a video that has been circulated on Twitter, two men who claimed to have taken a part in the lynching tried to justify this horrific act. The men stated that they complained to the factory management about the victim. When the management ignored their request for action, the factory workers decided to take matters into their own hands.
Twitter users reacted strongly to the brutality and condemned the perpetrators. Many blamed blasphemy laws which have allowed many to get away with unimaginable violence against minorities.
Journalist Anas Mallick blamed radicalisation and insurmountable intolerance that is present in Pakistan.
"The amount of radicalisation and intolerance that has transgressed into the society can be very well measured by what happened in Sialkot - Absolutely horrific - Our heads should hang in shame."
Humsafar actress Mahira Khan demanded justice for the victim. "Ashamed!! Sick to my stomach!! Looking at you @ImranKhanPTI for answers, for justice and to take away this menace from our country," she wrote on her official handle.
Some users claimed that the infamous piece of paper was a poster of a religio-political party.
Journalist, Raza Ahmad Rumi tweeted a video of the grisly act.
"Horrific: A mob in #Sialkot killed a sports factory manager (of #SriLankan origin) for allegedly removing #TLP posters. The #videos of his lynching/burning are brutal reminders of state policies that have radicalised generations, normalising murders & mainstreaming radical groups."
Disgruntled leader of Pakistan Tehreek e Insaaf (PTI) Jehangir Khan Tareen tweeted out his remorse and condemnation.
"Deeply gutted at the gruesome act of violence in Sialkot! My heart goes out to the family of Priyantha Kumara. Our Prophet (PBUH) was the pinnacle of patience. To carry out an act of violence, that too in the name of Namoose Risalat, is a massive disservice to Islam."
Gulf News columnist Mehr Tarar urged Prime Minister Imran and President Arif Alvi to issue a statement condemning the act.
"As a human being, a Muslim, a Pakistani & a PTI voter, I'm waiting for Pakistan's Prime Minister Imran Khan to issue a statement about the horrific, mind-numbing torture & lynching of Sri Lankan Priyantha Kumara in Sialkot. I'm also waiting for Pakistan's President to do the same."
PML-N leader and former minister for interior and planning development, Ahsan Iqbal said that the liberal use of religion for political gains is to blame.
"These scenes distorting the face of Pakistan and Islam are created by us. Who can we complain to? What will happen if the state allows the intense love of the Ummah for Hazrat Muhammad (PBUH) to be used for political purposes?"
Special Representative for Religious Affairs, Interfaith Harmony Hafiz Tahir Mehmood Ashrafi termed the crime as "un-Islamic".
Senator Sherry Rehman reiterated the point made by Ahsan Iqbal about using religion as a scapegoat to justify carrying out unimaginable crime.
"Weaponising religion leads to mob rule. Justice lies at the heart of legitimacy, and must be done by the state. No one can be allowed to take the law into their hands and use religion as a justification.#Sialkot is a terrible example that has to be addressed head on."
This is not the first time a person has been lynched by a mob in Sialkot. In August 2010 two brother Mughees and Muneeb Sajjad were lynched publicly by a mob that accused them of theft. The victims were hung in the presence of the police.
Some Twitter users recalled the horrific lynching that happened eleven years ago.
"These brothers never got their justice. 11 years later, extremists are more enabled. #Sialkot"
Bagh Tv journalist, Amnah Jabeen also recalled the incident.
"More than a decade since Mughees and Muneeb were lynched to death by an angry mob in Sialkot. 10 years down the lane and we're still the same. This is horrific, shocking and sickening to the core. Speechless."
In response to social media outrage, Prime Minister Imran issued his condemnation of the attack and promised that arrests will be made swiftly.
"The horrific vigilante attack on factory in Sialkot & the burning alive of Sri Lankan manager is a day of shame for Pakistan. I am overseeing the investigations & let there be no mistake all those responsible will be punished with full severity of the law. Arrests are in progress," he tweeted.
Senator Ejaz Chaudhry tweeted an update on the incident and promised severe action will be taken against all those involved.
"Sialkot incident will be dealt severely to ensure rule of law and no culprit will be speared like Mashaal Khan case in KPK."
COMMENTS
Comments are moderated and generally will be posted if they are on-topic and not abusive.
For more information, please see our Comments FAQ