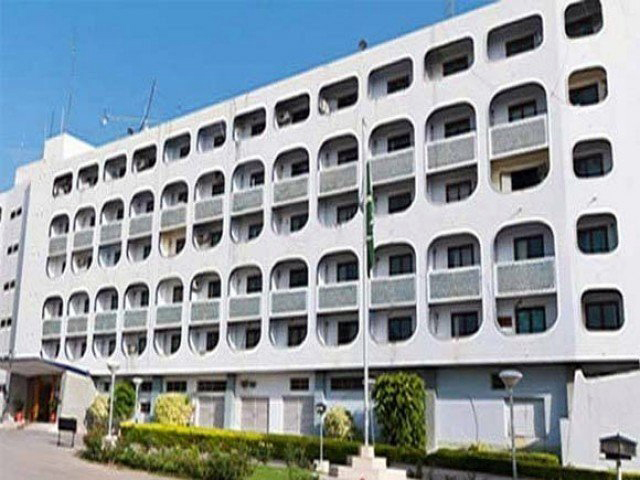 ---
ISLAMABAD:
A senior diplomat of the High Commission of India was summoned to the Ministry of Foreign Affairs on Thursday and conveyed Pakistan's categorical rejection of the "mischievous spin" given by India to an isolated incident involving an individual at Gurdwara Darbar Sahib.
"It was conveyed to the Indian diplomat that the incident was swiftly addressed and clarified," a statement released by the Foreign Office (FO) said.
The statement further maintained that the Government of Pakistan "accords the highest primacy to the rights of the minorities," and that the "sanctity of religious places and revered sites of every community is ensured in Pakistan".
The statement came in reference to a photo shoot at the Gurdwara Darbar Sahib, for which the model later apologised, for "hurting the sentiments of the Sikh community".
The FO said the Indian diplomat was instead told to urge the Indian government to investigate the incidents of "gross and systematic persecution of minorities" in India which continue with "impunity and state complicity".
Read Pakistan issues 136 visas to Hindu pilgrims from India
"Given its systematic marginalization and brutalisation of minorities, India has no locus standi to even feign concern for minorities elsewhere," the FO maintained.
It further said that Indian authorities must focus on ensuring effective protection of their own minorities and places of worship from repeated instances of desecration, hate crimes and mob lynching.
A clothing brand recently came under fire after an alleged photo shoot at the Kartarpur Corridor. The shoot was pointed out by prominent Indian Sikh journalist, Ravinder Singh Robin. In the aforementioned shoot, a model can be seen bareheaded, posing for the camera, compromising the sanctity of the place.
"Modelling bareheaded for ladies' attire, in the premises of Gurdwara Sri Darbar Sahib at Kartarpur Sahib in Pakistan, by a Lahorite woman," the journalist tweeted. "[This] has several hurt the religious sentiments of Sikhs. Further, the pictures were uploaded on social media."
Ravinder went on to tag PM Imran Khan and the Ministry of Religious Affairs of Pakistan.
(WITH INPUT FROM APP)
COMMENTS
Comments are moderated and generally will be posted if they are on-topic and not abusive.
For more information, please see our Comments FAQ