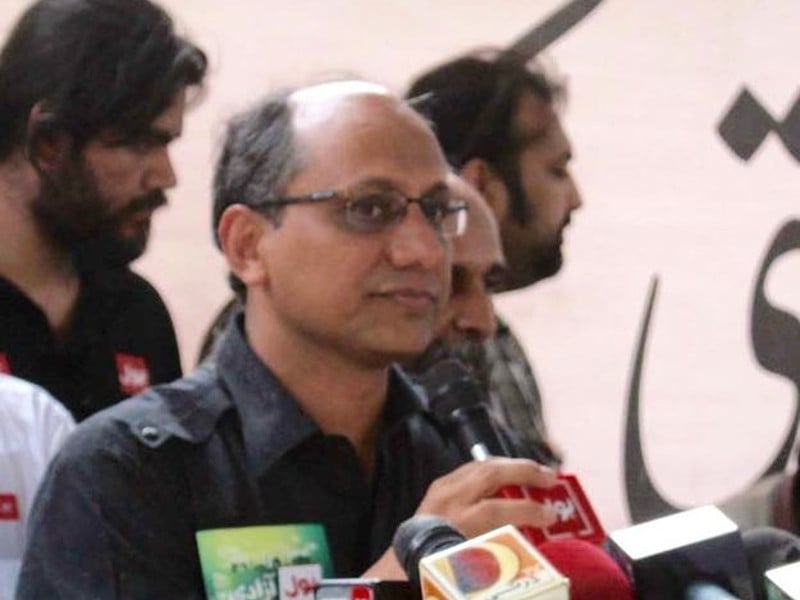 ---
As the pace of demolition of Karachi's infamous Nasla Tower – allegedly built on an encroached portion of a service lane – gains momentum, Sindh Information Minister Saeed Ghani has urged the Supreme Court to let the provincial government regularise buildings made in violation of rules and regulations as it affected lives of the huge number of people.
Speaking to the media in Peshawar on Monday alongside Pakistan Peoples Party (PPP) leader Nayyar Bukhari, Ghani said that violations of the rules happen during the construction of projects like Nasla Tower and such buildings have been regularised in Islamabad.
"[Prime Minister] Imran Khan's residence in Bani Gala [in Islamabad] and Bahria Town [in Karachi] were regularised by imposing fines... why there are different standards for ordinary citizens," he questioned.
The provincial minister alleged that Muttahida Qaumi Movement (MQM) was involved in illegal constructions in Sindh but the provincial government should be allowed to regularise them as it affected millions of people. "Steps such as demolishing buildings like Nasla Tower would render thousands jobless," he added.
He urged the court to form a commission to regularise such projects.
Last month, the residents of Nasla Tower were issued notice by the assistant commissioner of the District East to evacuate the building in compliance with the SC orders.
The apex court had ordered the demolition of Nasla Tower in June and upheld the decision in a review petition filed in September.
'Imran Khan is chief of liars'
Ghani said that the ruling Pakistan Tehreek-e-Insaf is a party of "liars" and Imran Khan is their chief.
"Most of the wheat is produced in Punjab but they [federal government] puts blame on the Sindh government for the wheat crisis," he added.
The PPP leader alleged that the "ATMs" of Imran Khan are responsible for the crisis as the prime minister turned a blind eye on them since they are his sources of income.
He further said that the PPP gets repeatedly elected in Sindh because of its performance in the province.
COMMENTS
Comments are moderated and generally will be posted if they are on-topic and not abusive.
For more information, please see our Comments FAQ