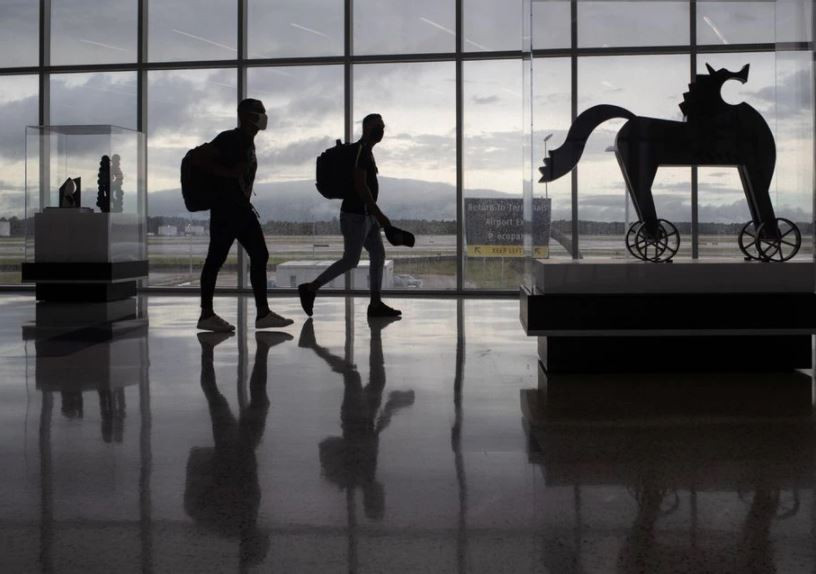 ---
ANKARA:
US President Joe Biden ordered on Friday air travel restrictions from South Africa and seven other countries amid the new coronavirus variant, the White House announced in a statement.
In addition to South Africa, restrictions include Botswana, Zimbabwe, Namibia, Lesotho, Eswatini, Mozambique and Malawi to take effect on Monday.
Biden said the restrictions are "a precautionary measure" and advised unvaccinated American adults and children to take their jabs and vaccinated individuals to get their booster shot.
The president said the new variant shows that the coronavirus pandemic "will not end until we have global vaccinations."
He called on all nations to gather next week for the World Trade Organization ministerial meeting to meet the US challenge to waive intellectual property protections for COVID vaccines, so they can be manufactured globally.
Dr. Anthony Fauci, the director of the National Institute of Allergy and Infectious Diseases, earlier told CNN the new variant is considered as a "red flag" by the US.
"Right now, we're getting the material together with our South African colleagues to get a situation where you could actually directly test it," said the US' top infectious disease expert.
"Once you test it, you'll know for sure whether or not it does or does not evade the antibodies that we make -- for example against the virus, through a vaccine," he added.
Fauci noted that there is no indication that the new variant is in the US at the moment.
He, however, said that the new variant is spreading "in a reasonably rapid rate" and added American scientists are in "very active communication" with their South African counterparts to learn more about its molecular makeup.
Fauci noted that the coronavirus' different mutations are raising concern, "particularly with regard to possibly transmissibility increase, and possibly evasion of immune response."
The variant known as B.1.1.529 may have a large number of protein mutations, which could behave differently against vaccines, treatments, and it may have a different character for transmissibility.
It was named "Omicron" by the World Health Organization who called it "a cause for concern" and said it has a high number of spike mutations, believed to be at least 32 for the moment.
BioNTech said earlier it needs two weeks to assess if its vaccine would work against the new variant, adding it took steps months ago with its American partner Pfizer to adapt their mRNA vaccine within six weeks and carry first batches within 100 days in case of an escape variant.
The new heavily mutated variant, which might be able to evade vaccines, was detected in Botswana on Nov. 11, and later in Hong Kong.
Authorities in Hong Kong blamed a South African traveler for bringing the new variant to the city. They said the new variant was detected in the traveler and in an individual who stayed at the same quarantine hotel, noting they were both fully vaccinated, according to reports.
In Europe, Belgium confirmed the first case of the new variant, while the patient was identified as a young woman who traveled to the country from Egypt via Turkey.
The European Commission recommended that EU member states suspend all flights from the southern African region to stem the spread of the new variant.
Britain suspended flights from Botswana, Eswatini, Lesotho, Namibia, South Africa, and Zimbabwe as of Friday noon.
COMMENTS
Comments are moderated and generally will be posted if they are on-topic and not abusive.
For more information, please see our Comments FAQ