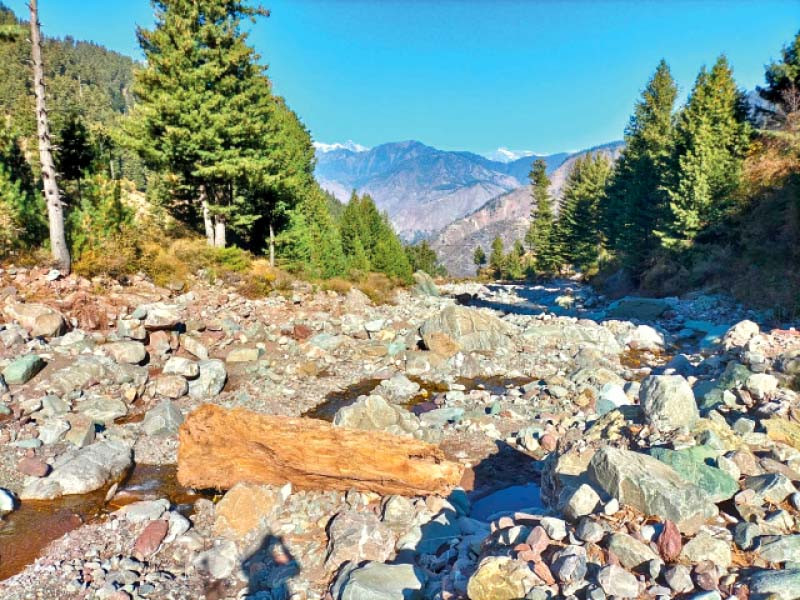 ---
BALAKOT:
Deprived of basic facilities and lacking a proper road, the scenic Bhonja Valley located in the vicinity of the famed Kaghan Valley remains an inaccessible tourist destination, albeit one with considerable potential.
Bhonja Valley, situated around 3,000 metres above sea level and at a distance of 40km from Balakot, is home to a beautiful landscape boasting natural attractions such as snow-capped mountains, gushing waterfalls, clear streams and boundless green meadows.
However, reaching the village of Bhonja is an uphill task unto itself, as the existing road is in a dilapidated condition and a major deal-breaker for potential tourists.
Elected representatives of the constituency Syed Ahmed Hussain Shah and Saleh Muhammad Khan are yet to make good on their announcement of constructing a bridge and a proper road for Bhonja Valley.
A bridge worth millions of rupees that was earlier built in collaboration with international organisations was destroyed by constant land sliding, with a bulk of the construction breaking apart and washing away in the river below. The exposed plates of the bridge are periodically carried off by local inhabitants.
Read Increase in tourism poses threat to natural areas
Reportedly, hundreds of thousands rupees have so far been spent on the restoration of the bridge, but no physical evidence of reconstruction is visible, nor have any efforts been made to control the frequency and intensity of land sliding.
Former Nazim Bhonja Ilyas Ahmed said that while nature has blessed the valley with unparalleled beauty, the apathy of the locally elected representatives has resulted in Bhonja being all but invisible on the tourism radar.
Ilyas said he has requested the provincial government to keep Bhonja Valley in mind during its quest to discover and develop new tourist spots.
Meanwhile, Member of Provincial Assembly and Special Advisor to Chief Minister Syed Ahmed Hussain Shah has claimed that he has allocated funds worth Rs20 million for the repair and construction of the required bridge and road.
He said work on the project is expected to start in the near future and soon Bhonja Valley, like all other attraction sites in the Kaghan Valley, will start receiving its due share of tourists and travel enthusiats.
Published in The Express Tribune, November 28th, 2021.
COMMENTS
Comments are moderated and generally will be posted if they are on-topic and not abusive.
For more information, please see our Comments FAQ