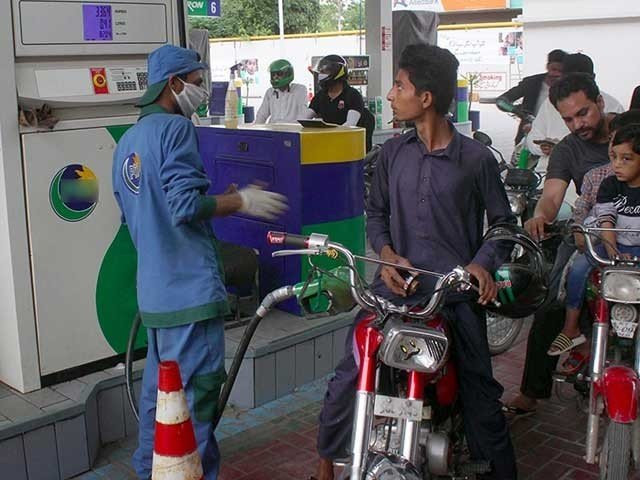 ---
ISLAMABAD:
The opposition slammed the government on Thursday as petrol retailers held a nationwide strike against low profit margins, triggering panic buying by thousands of people who lined up to get their tanks filled.
Pakistan Muslim League-Nawaz (PML-N) Vice-President Maryam Nawaz said the government's "apathy and incompetence" had forced people to wait in long queues to get wheat, sugar, and petrol.
The Pakistan Peoples Party (PPP) chairman said that the government had "ruined" the lives of people.
The strike was called by the Pakistan Petroleum Dealers Association (PPDA).
"This strike is nationwide. This is all over Pakistan and it will be for an indefinite period," PPDA information secretary Khwaja Asif Ahmed said. "We will not make our pumps operational till our demands are met."
The retailers began the strike as the main industry body flagged low-profit margins, exacerbated by the government's move to raise taxes and boost revenue under its agreements with the International Monetary Fund (IMF), they said.
Taking to the microblogging website, Twitter, Maryam Nawaz, a fierce critic of the Pakistan Tehreek-e-Insaf (PTI), termed the difficulties faced by the people in the wake of the strike "the height of injustice" to the masses.
"This is the humiliation that Imran Khan has earned for a few days in power," Maryam said while sharing a video on Twitter of a man criticising the government while standing outside a petrol pump in Islamabad against the backdrop of a large number of people waiting to get their tanks filled.
Read Govt 'averts' petroleum crisis for time being
She said that despite all that chaos, the government had been "inconsiderate" towards the masses. She further said that she had never seen Prime Minister Imran Khan being worried about the problems of a common man.
In another tweet, Maryam shared images of long queues outside petrol pumps in Islamabad, Lahore, and Gujranwala, and said: "These are not just long queues, [but the] people's misery, pain, and helplessness."
Bilawal, the PPP chairman, also mentioned the long queues at the few petrol pumps, which were opened on Thursday. "Most of the petrol pumps are closed in the country, while several long queues could be seen [...] business affairs are affected, which is the government's failure," he said in a statement.
The PPP chairman said that Prime Minister Imran Khan had "ruined" the lives of people after his government had affected every aspect of life. "The PTI-led government turns solvable issues into a crisis through its incompetence," he charged.
He warned that any increase in the fuel prices would be disastrous for the masses, following the hike in the electricity tariff, expensive petrol and gas.
"From day one, we had said that the PTI's budget was a failure... and the failure of the budget has proved that Imran Khan's government is incompetent."
(INPUT FROM NEWS DESK)
COMMENTS
Comments are moderated and generally will be posted if they are on-topic and not abusive.
For more information, please see our Comments FAQ