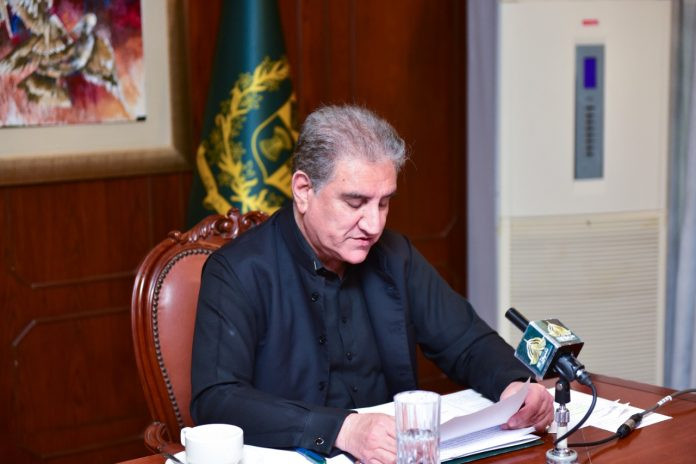 ---
Foreign Minister Shah Mahmood Qureshi has said that Afghanistan's stability is vital for the region as well as for all member states of the Shanghai Cooperation Organisation (SCO).
He made these remarks at the 20th-anniversary meeting of the SCO Council of Heads of Government (CHG) on Thursday, the Foreign Office said in a statement.
The Council of Heads of Government is the second-highest forum in SCO that focuses primarily on cooperation among SCO member states in socio-economic, trade and financial sectors. Chaired by the Prime Minister of Kazakhstan, Askar Mamin, the SCO-CHG was held in a virtual format owing to the Covid-19 pandemic restrictions.
SCO member states and observers states were represented at the level of prime ministers, vice presidents and foreign ministers.
In his statement, Foreign Minister Qureshi described the 20th anniversary year of the establishment of SCO as an important juncture where SCO leaders need to collectively chart the future course of the organisation. The foreign minister reaffirmed Pakistan's "resolute commitment to continue to advance SCO's goals and objectives".
He underscored that regional security was imperative in fulfilling SCO's vision of regional prosperity and economic growth.
Also read: SCO leaders ask US to engage with Taliban
In this endeavour, stability in Afghanistan was of critical importance for all member states of the SCO.
On its part, the foreign minister reaffirmed, Pakistan will continue to "play its role to assist our Afghan brethren in their hour of need by contributing towards its socio-economic development" as well as engage with regional and international partners to advance shared goals and objectives.
The foreign minister emphasised that projects aimed at building regional connectivity as well as creating linkages between businessmen and entrepreneurs were important to achieve regional economic growth.
Pakistan would be taking forward initiatives in these areas during 2022. The foreign minister also congratulated the Chinese government on assuming the chair of SCO Council of Heads of Government for 2022.
COMMENTS
Comments are moderated and generally will be posted if they are on-topic and not abusive.
For more information, please see our Comments FAQ