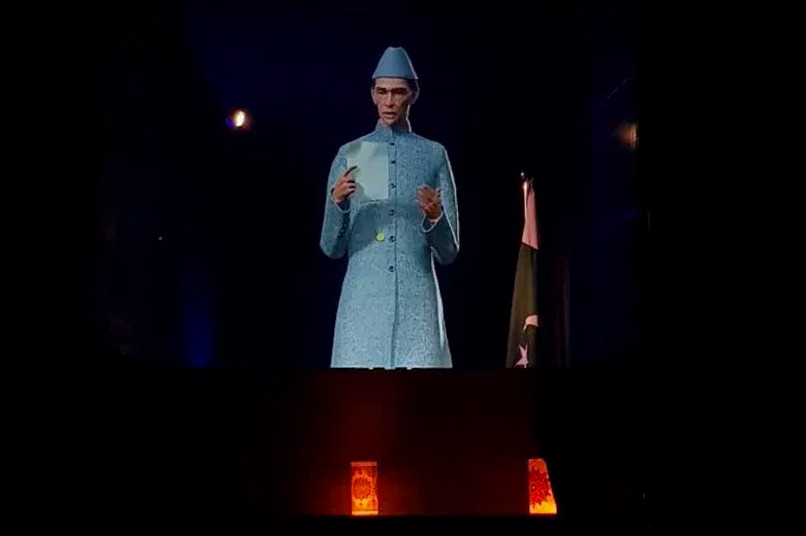 ---
A Pakistani organisation has won the Nelson Mandela-Graça Machel Innovation Award for their social impact campaign which used a life-size hologram of Quaid-e-Azam Muhammad Ali Jinnah, to advocate for an equal and inclusive Pakistan.
The campaign, 'AIK – Better Together', was run by HIVE Pakistan.
The organisation, which works towards addressing issues of extremism and marginalisation through innovative campaigning, youth-focused mentorship, and upstream mobilisation, won the award in the category of 'creating positive narratives for people power'.
Through their 3D holographic technology, they recreated Jinnah's statements on interfaith harmony, inclusive development, women empowerment and pluralism. The hologram was screened in public places in six cities, engaging more than 50,000 people, and reaching millions online.
"Our project was an effort (…) that wished to show to the world that emerging technology can be harnessed as a peacebuilding tool to create meaningful experiences for audiences in a way that are cost-effective and more impactful than traditional methodologies," the Executive Director of HIVE Pakistan Syed Ali Abbas Zaidi said upon receiving the award.
Read Mohatta Palace on the brink of conversion
The Nelson Mandela- Graça Machel Innovation Award is named after renowned human rights activist Nelson Mandela and former first lady of South Africa and Mozambique Graça Machel, and are led by the global civil society alliance, CIVICUS.
The 2021 Innovation Awards recognise groups that stand out for their innovative work building people power in support of human rights and social justice for everyone. Through a public open call, submissions were accepted, and winners were selected from a pool of applicants from over 70 countries.
Each winner received $5000 in recognition of their work.
COMMENTS
Comments are moderated and generally will be posted if they are on-topic and not abusive.
For more information, please see our Comments FAQ