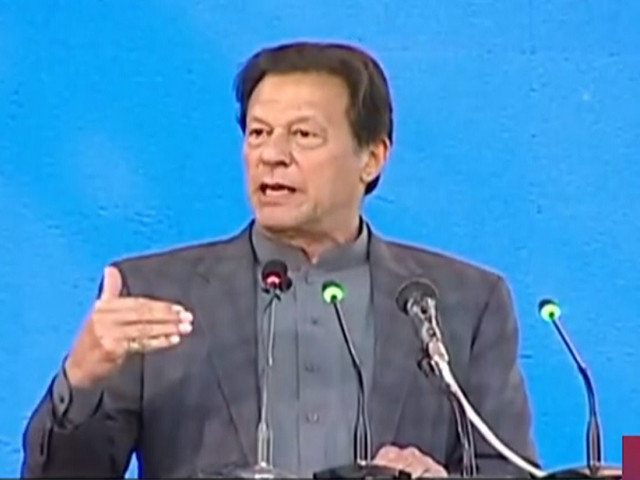 ---
Terming the alleged leaked audiotape of former chief justice Saqib Nisar a "drama", Prime Minister Imran Khan on Wednesday said the Sharif family had resorted to attacks on institutions to avoid providing courts money trail for their London properties.
In the audiotape, the former top judge can purportedly be heard about being told to sentence ex-premier Nawaz Sharif and his daughter Maryam.
"Today, an audiotape is under discussion so I thought I should talk about it as well. We can see tapes surfacing, with judges being named," the premier said at the Kamyab Jawan Convention 2021 in Islamabad.
"Let me tell you what this is about... they [Sharifs] are resorting to attacks on institutions because they were asked to respond about the sources of their [offshore] wealth."
PM Imran also regretted that the country's top judge and a "convict", referring to former premier Nawaz Sharif, were invited to speak at a same event.
The premier was speaking about the recently held Asma Jahangir Conference in Lahore where Chief Justice of Pakistan Gulzar Ahmed spoke at one its sessions and convicted PML-N supreme leader Nawaz's address to the event via a video link was disrupted when the live stream was abruptly stopped.
"There is a function in Lahore where the chief justice and Supreme Court judges are invited and who addresses that event? A man who has been convicted by the Supreme Court and who has absconded from the country," he added. "It's unfortunate."
PM Imran maintained that when he had stepped into politics 25 years ago, he deemed corruption to be the biggest problem of the country.
Also read: PTI, PML-N bicker over 'audio clip'
"Nations don't become poor due to lack of resources; they become poor when prime minister and ministers begin to launder money abroad… They don't keep it in the country so that they can hide it from the people. In doing so, they inflict double damage to the country."
Referring to the Panama Papers leaks, the premier said: "Maryam Nawaz was found to be the owner of four flats in London. "However, she was not able to put forth a single document to prove the money trail."
This happened, he added, because it was stolen money. "After failing to put forth a proof, they begin to attack the judiciary and military. They lied about it in the National Assembly, followed by the fake Qatari letter and the Calibri font saga."
The prime minister said he also owned a flat in London but he provided every proof related to it over a period of 10 months. "I provided 40-year-old contracts related to my flat despite the fact that I was not a public office holder."
Also read: Maryam says judiciary should not bear burden of ex-CJP's 'sins'
He said a nation could not continue to stand on its feet when its ethical standards were destroyed. "We cannot reach the place where we want to be unless we lift our moral standards. I have no doubts in our capabilities and I am certain that we will become a great nation."
On the occasion, PM Imran launched four projects -- Kamyab Jawan Markaz, Kamyab Jawan Youth Movement, Kamyab Jawan Innovation League and Kamyab Jawan Talent Hunt Youth Sports League.
Separately, the premier also gave an in-principle approval to the merger of the Earthquake Reconstruction and Rehabilitation Authority (ERRA) with the National Disaster Management Authority (NDMA).
The decision was taken at the 14th meeting of the ERRA Council, chaired by the prime minister and attended by Punjab Chief Minister Usman Bazdar, Khyber-Pakhtunkhwa Chief Minister Mahmood Khan, Gilgit-Baltistan Chief Minister Khalid Khurshid, Azad Kashmir Prime Minister Sardar Abdul Qayyum Niazi, National Assembly members Saleh Muhammad, Abdullah Khan and ERRA Chairman Lt Gen Akhtar Nawaz.
The prime minister issued directives to hand over 2,200 completed projects of ERRA to the concerned provincial governments and departments and for the early completion of 230 under-progress projects by the year's end.
He stressed the need for considering proper guidelines of construction in areas on geological fault lines to sustain earthquakes.
He also urged the promotion of tourism in areas particularly northern areas, K-P, Azad Kashmir and G-B.
The meeting was briefed on the progress on New Balakot City and the handing over of unfinished projects to the provincial governments under ERRA.
The prime minister ordered expediting progress on New Balakot City as well as on the semi-completed projects.(With input from APP)
COMMENTS
Comments are moderated and generally will be posted if they are on-topic and not abusive.
For more information, please see our Comments FAQ