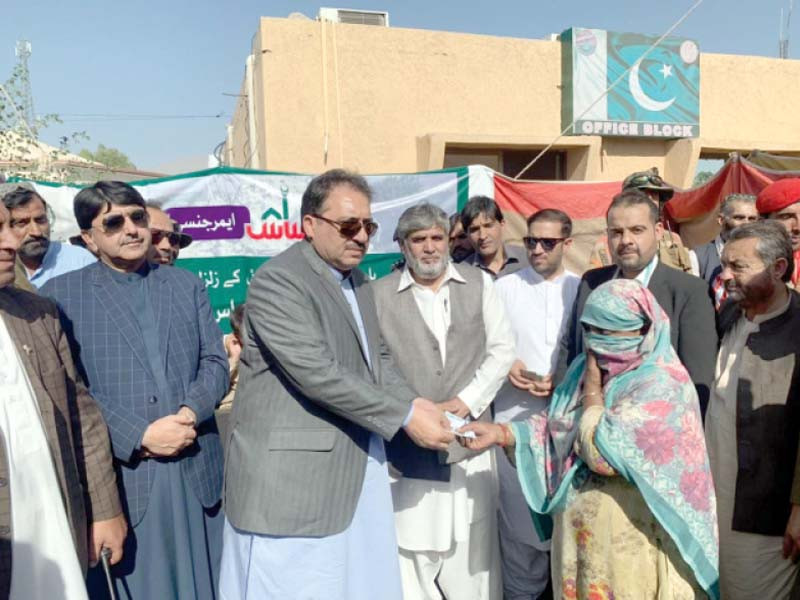 ---
QUETTA:
Pakistan Poverty Alleviation Fund (PPAF) has been provided Rs5 billion by government and 15,000 families in Balochsitan are being provided assistance in collaboration with the Balochistan Rural Support Programme (BRSP).
This support project is working in three districts of the province and immediate earthquake disaster relief assistance has been provided in district Harnai.
A cheque distribution ceremony was held at the Governor House in Quetta to mark the continued support under the Ehsaas Amdan programme.
On this occasion, relief assistance was also handed out to families severely impacted by the earthquake which hit district Harnai in early October.
"The government of Balochistan is committed to the sustainable development and prosperity of the province. We are working for the welfare of rural communities, especially in the most deprived regions of the province through collective efforts of the government and nongovernment stakeholders. I'd like to commend the efforts of PPAF, BRSP and PDMA on their robust response to the recent earthquake in Harnai and their ambition to fight poverty," said Governor Syed Zahoor Ahmad Agha.
Read Harnai quake victims to get Rs12,000 each
While addressing the ceremony, the Secretary, Poverty Alleviation and Social Safety Division (PASSD) Muhammad Ali Shahzada said that their prime focus is to transfer assets to the beneficiaries in order to make them selfsufficient and improve their livelihood.
He maintained that the ministry is committed to alleviating poverty throughout the country and the government has disbursed Rs5 billion to Pakistan Poverty Alleviation Fund (PPAF) to achieve this objective.
PPAF's Chief Operating Officer, Nadir Gul Barech said that Balochistan is the poorest of all provinces and they always supported those in dire need, such as survivors of Ziarat earthquake.
It is worth noting here that PPAF is assisting more than 15,000 ultra-poor households.
COMMENTS
Comments are moderated and generally will be posted if they are on-topic and not abusive.
For more information, please see our Comments FAQ